Don't Always talk to People who don't go to Church but have something to say about the Church – Joshua Mike-Bamiloye
In this age of social media, everyone has an opinion, and it does not matter whether or not they are experts on what they have an opinion on. One major draw for contributions on social media is the religious sector, especially the Pentecostal christian religion in Nigeria.
Joshua Mike-Bamiloye, a christian artists, producer and the son of the founder of Mount Zion Films, has talked about people who have opinions on church customs and beliefs, in spite of the fact that they don't go to church. In a tweet, he warned his followers against engaging with them on topics like the payment of tithes and offerings, or the rules regarding weddings.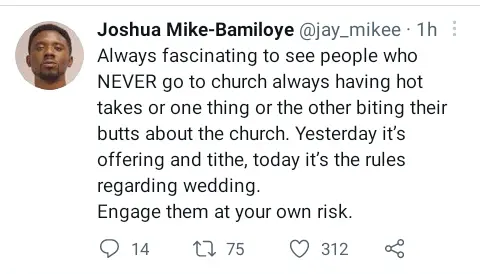 Do you think it is right for someone who does not go to church to express an opinion about a church tradition? While some do not understand the basis of the tradition and argue based on emotions, are there not others who might have done some research on the topic, and are speaking from a place of knowledge?
What about the christians that engage them on social media? Of course it could be an opportunity to reach them, and clear their mindsets of the errors and misconceptions they may have, but other times it could just lead to a long argument that would go nowhere eventually.
What are your thoughts on this? Share them in the comments below 👇👇