Some moments ago, a well known Nigerian politician, Femi Fani Kayode (FFK) of the All Progressives Congress (APC), took to his verified social media platforms (Facebook) to share a video showing the founder of the Redeemed Christian Church of God (RCCG), Pastor Enoch Adejare Adeboye, talking about some socio-political issues bedeviling Nigeria.
The well known man of God was talking about the recent bombing of an Abuja-kaduna bound train. Aside that, he also talked about the fast approaching presidential election in 2023. Reacting to this video, Femi Fani Kayode (FFK) said, "the General Overseer of the Redeemed Christian Church of God has raised some legitimate and pertinent questions."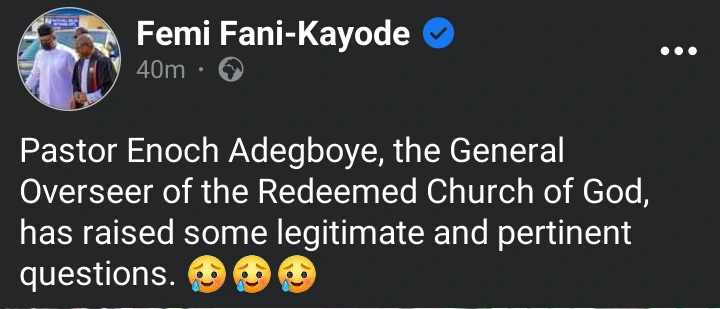 The reason behind the reaction of FFK is because the man of God said, "today it is Kaduna, where will it be the next time?" Pastor Adeboye again asked questions concerning how the oil in Nigeria is being pilfered by unknown people and sold to other nations. He concluded by noting that if the federal government of Nigeria keeps borrowing, the county will steadily move into bankruptcy.