Finally, Rejoice Iwueze Shares Beautiful Pre-wedding Pictures Of Herself And Her Handsome Fiancé Tayo
Popular destiny kids finest, Gospel singer and veteran child singer; Rejoice Iwueze and her soon to be husband (Fiancé); Tayo Samuel, has recently shared their pre wedding pictures on their respective official social media handles.
The soon to be couple shared the post by celebrating each other on their various Instagram handles.
Tayo Samuel released the pictures of himself and his fiancee, Rejoice Iwueze and he penned down a heartfelt message to the gospel singer in preparation for their long lasting union ahead. Rejoice also share the Pre-wedding pictures of both of them on her page as well and she celebrates her husband to be, who she equally refered to as her testimony.
Rejoice Iwueze and her fiance also prayed that the union shall be a blessed one, with no worries or problems.
Trust the netizens, Their social media fans and followers also joined in celebrating the upcoming union and they wished the couple a happy married life in advance.
Rejoice Iwueze wrote 👇👇
God really took out time in blessing me with His best masterpiece @samtblaze Everyday it gets beautiful calling you "ife mi". The kind of love you have shown me can't be expressed in words and I'm eternally grateful to God. You are my testimony and I won't lose you. You are my constant reminder of how much the Father loves me. I pray the Lord guides us throughout the journey of life. I LOVE YOU TODAY, TOMORROW and FOREVER @samtblaze 📸 @kingsonpictures 🥼@eme_couture_247MUA @skazybeauty #rejoicewithtayo22 #iaminlovewithachurchgirl2022 #rejoice_iwueze #rejoiceiwueze #rejoiceiwuezeministries #rejoiceiwuezechanginglives
Tayo Samuel Wrote 👇👇
Jesus commands our destiny my love❤️No power of hell, no scheme of manCan ever pluck us from His handTill He returns or calls us homeHere in the power of Christ We stand.I love you forever my testimony❤️ @rejoice_iwueze #RejoicewithTayo22#iaminlovewithachurchgirl22 👕👗 @eme_couture_247 📸 @kingsonpictures💄 @skazybeauty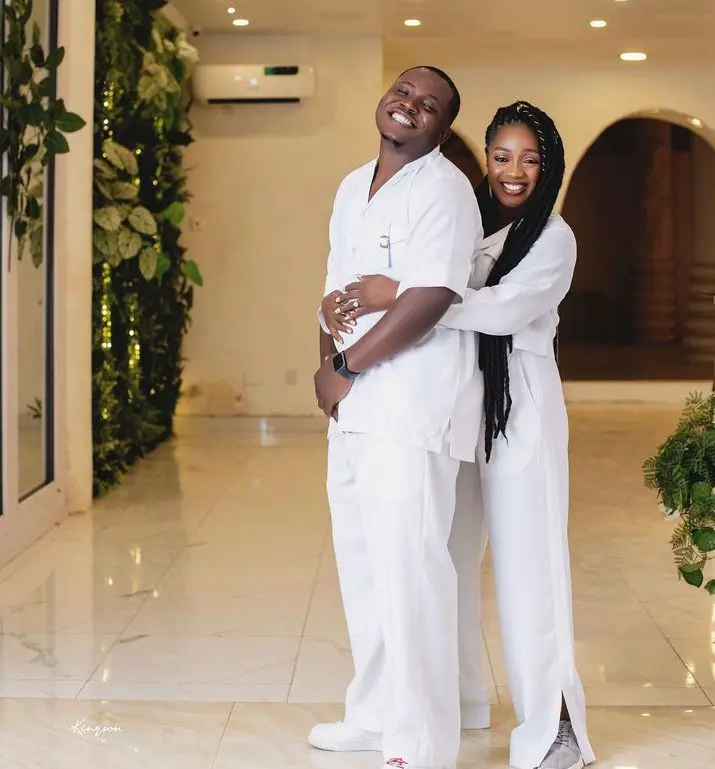 Rejoice Iwueze is famous for being a part of the Destiny kids gospel crew which was renowned during the early 2000's.