Finally, VP Osinbajo declares to run for 2023 Presidency (Details)
Vice President, Yemi Osinbajo has just declared for 2023 Presidency.Osinbajo in a live broadcast on Channels TV revealed his intention to contest for the exalted position on Monday morning.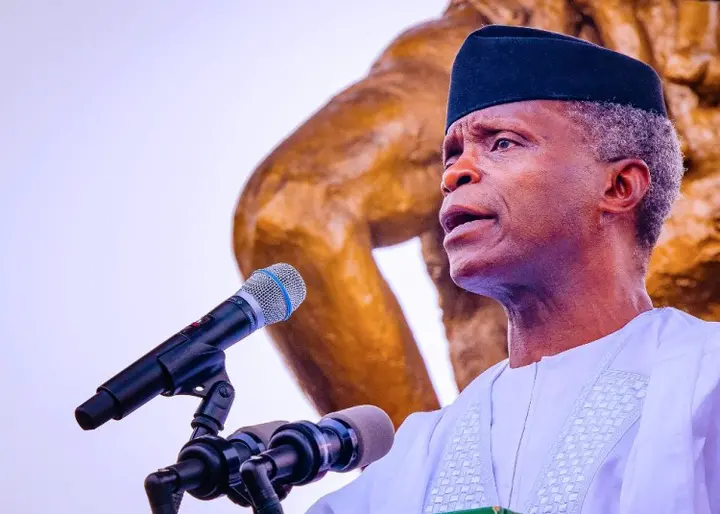 According to sources in the Presidential Villa last night, the announcement comes after consultations with various groups, including a meeting with a number of APC governors held in the Vice President's residence in Abuja last night.
Governors Babajide Sanwo-Olu (Lagos); Nasir El-Rufai (Kaduna); Hope Uzodinma (Imo); and Dapo Abiodun (Ogun), were believed to be among the governors that attending the Iftar dinner meeting with the Vice President.
The villa source said there were more governors in attendance but refused to name them. Journalists were barred.
The source said, "the Vice President felt the need to inform the governors ahead of a planned public declaration Monday of his decision to contest presidency in 2023 under the APC platform."
He added that, "he is also discussing his plans with the governors and will continue consultations with other critical stakeholders in the National Assembly and others."
Insiders said last night that it was unlikely that the Vice President would have come to this point without first discussing with and getting clearance from President Muhammadu Buhari, perhaps the most significant person in the line-up.
It was not clear if Osinbajo had also discussed his intention with his political mentor and former Lagos State governor, Asiwaju Bola Ahmed Tinubu, who was the first in APC to publicly declare his interest to run for the presidency.
"That prospect was discussed with the Vice President", a source said on Sunday night, "but we don't know if he has met Asiwaju or not."
The Vice President who is statutorily chairman of the National Economic Council (NEC), has worked with governors across party lines in the last seven years.
Although it is not certain how APC will choose its presidential candidate, governors are known to exert considerable influence on the process. Insider said Osinbajo may have decided to lean on them substantially because of his limited political clout in the party, considered to be Tinubu's turf in the APC.
As of press time, more governors from across the political zones and particularly from the North, were expected to join the Vice President at the private Iftar dinner.
Osinbajo will be joining other APC chieftains, like Bola Tinubu; Governor Dave Umahi (Ebonyi); Governor Yahaya Bello (Kogi); Senator Rochas Okorocha and Rotimi Amaechi who have formally declared their ambition to succeed President Muhammadu Buhari. This brings the number of APC presidential aspirants to six.
Recall that LEADERSHIP had last week exclusively reported that the vice president would formally make a public statement on his much speculated presidential bid in a matter of days.
LEADERSHIP had also reported that he was forced to postpone his formal declaration after the recent Kaduna-bound train attack.
Last week, a new poster, signaling his formal declaration had emerged. The poster had Osinbajo's picture with the inscription, "Get Ready, Get Set: It is happening soon. #PYO 2023."