Former Big Brother Housemate, Maria finally speaks on having a romantic affair with Apostle Joshua Selman
Former Big Brother Naija Housemate, Maria Chike Benjamin has debunked reports alleging she was romantically involved with Nigerian apostle, Joshua Selman.
The reality star shared this via the popular microblogging platform, Twitter on Monday after she replied to a tweet by the apostle.
The Apostle had tweeted: 'May you experience Mind Blowing Miracles this new week, IJN'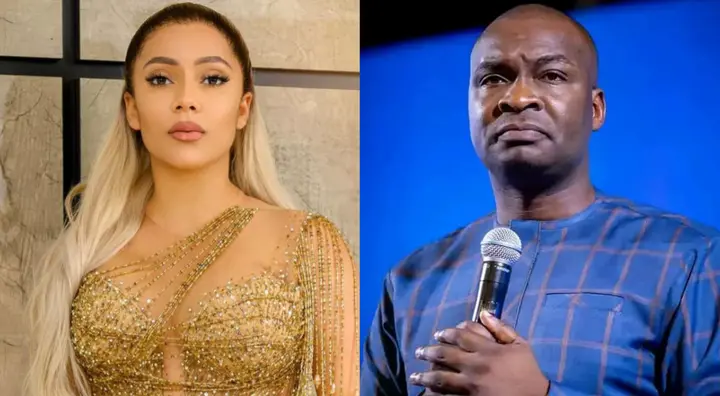 Replying the tweet, Maria proclaimed an 'amen' to the apostle prayer, then went on to question a rumored report alleging an affair with him.
The reality star described the rumor as 'funny', as herself and her partner found it hilarious.
She said: "Amen! But i'm sorry man of God, are you the one they allegedly claim i had something with? No offence, but myself and my partner just laughed out loud! May God be with you amen. I found you on a retweet please don't be offended."
Maria Shares Stunning Photos With Her Mother
Meanwhile, Maria Chike Benjamin recently took to social media to share a stunning family photo shoot with her mother.
Taking to her Instagram on Sunday, the reality star celebrated her mother for loving her unconditionally and supporting her despite her flaws.
She also thanked her mother for being a friend she has always needed in her life.
Sharing the photos, she wrote: "First my Mother, forever my friend. Thank you for loving me unconditionally flaws and all. Thank you for always supporting me and just being there no matter the situation, when, where or how. Thank you for always being proud of me. Thank you for always speaking love into me. Thank you for being my mother, but most importantly, thank you for being a friend that I've always needed."
By Chukwuani Victoria