Except Nigeria's sitting High Commissioner to United Kingdom, Tunji Sarafa Ishola, no previous envoy had invited me to Britain, according to the Redeemed Christian Church of God, Pastor Enoch Adeboye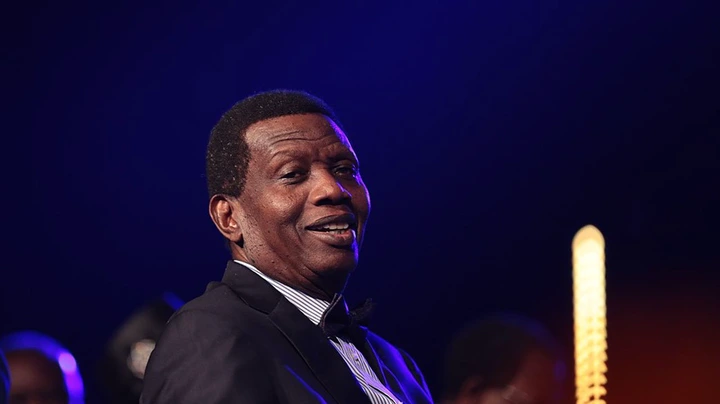 .
Ishola, thus, became the first envoy to invite the revered cleric to Abuja House, the official residence of the diplomat on Friday, April 8.
Although Adeboye, fondly referred to as Daddy GO within and outside the Redeemed Church, had been at Abuja House to pray for President Muhammadu Buhari when he was recuperating a few years ago, it was a courtesy visit and perhaps, arranged by the Vice President Yemi Osinbajo, who doubles as a Redeemed pastor.
The GO, who is a regular in the UK, where the denomination has been for nearly 40 years, told Ishola and the embassy staff and other guests that, "I am extremely delighted to be here."
He added: "The Redeemed Christian Church of God is in more than 190 nations of the world, and l have visited many of these nations and in each nation, l have been welcomed by our ambassadors."
But in spite of numerous UK trips, including holding a series of Holy Ghost Night services at the Excel Centre, one of which former British Prime Minister David Cameron, attended while in office, Adeboye, who was in the company of his wife, Pastor Folu Adeboye, during the historic visit to the Kensington address, noted: "This is the first time ever that l have been invited by a Nigerian ambassador to the UK, though the RCCG started in Britain in 1983."
He added: "I have always wondered what Nigeria House looks like in London. Today, l know. I am very grateful sir. Thank you for the honour and the Almighty God will honour you in return."
The cleric then urged Nigerians to be comforted in the fact that the country "is special to God and despite the current situation, there's a silver lining ahead."
Referencing the country's October 1 Independence Day as a date with biblical significance, the Redeemed GO stated: "Whether we believe it or not, Nigeria is a very special country. It would amaze you to know that the most important date in the Biblical calendar is October 1. That is the day of the Feast of Trumpets."
Welcoming Adeboye, Ishola, whose predecessors include notable names like Dr. Christopher Kolade, Dr. Dalhatu Sarki Tafida and Justice George Oguntade (rtd), said: "I was taken aback to hear that this is the first time that Daddy G O is visiting the Abuja House, London. I am quite delighted that this is happening during my tenure."