Days after Apostle Johnson Suleiman of Omega Fire Ministry released video that went viral on internet. Apostle Suleiman via the short video described Ndigbo 'as shameless people'.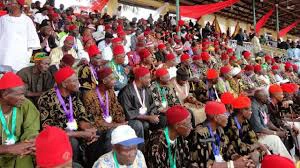 His description of Ndigbo as shameless people did not go down well with Ohanaeze Youth Council.
The group through its national president, Igboayaka O. Igboayaka reacted that such a video can only come from a man of God who lacks ethics of pulpit which be upheld every time.
Apostle Suleiman said in the viral video that if Igbo were given Biafra as widely agitated for, Igbo man would destroy it and ended up achieving nothing.
Igboayaka remarked in a statement made available to pressmen that Apostle Suleiman failed to speak up against insecurity in the northern part of the country where lives and properties lost.
The group advised Apostle Suleiman to concentrate on preaching the gospel of love and shun preaching of destabilizing ethnic groups in the country.
The group challenged him Apostle Suleiman to walk without escort on street and see what ordinary man face due to insecurity.