Joshua Mike Bamiloye And His Wife Tolulope Reveals How, Where And When They Met
Joshua Mike Bamiloye And His Wife Tolulope Reveals How, Where And When They Met
To start with, November 7th was Jay Mikee's birthday, check out how his wife Tee Mikee wished her baby a happy birthday.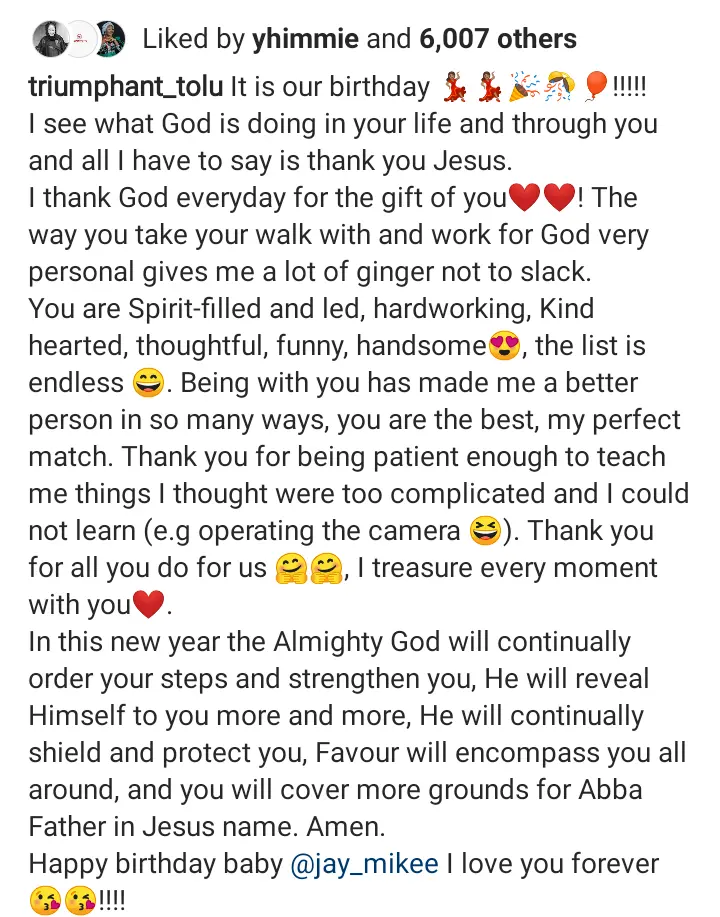 5 days before that was their wedding anniversary, check out how they wished each other a happy wedding anniversary.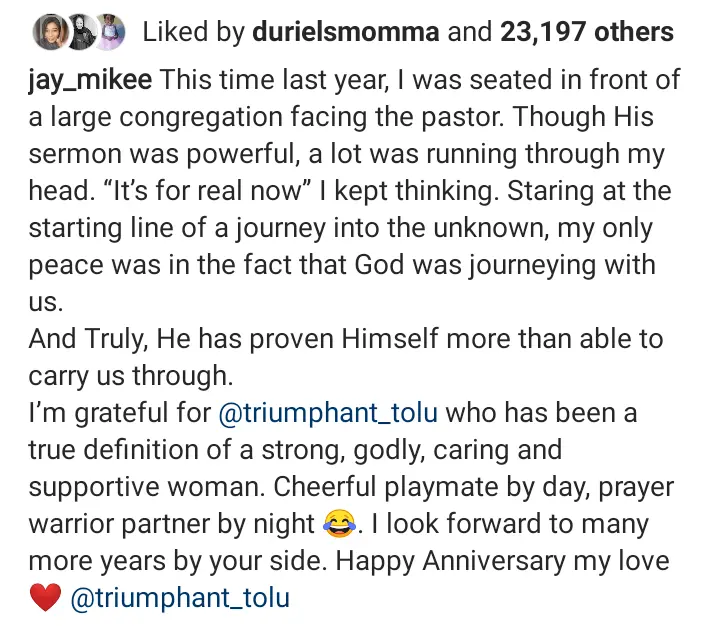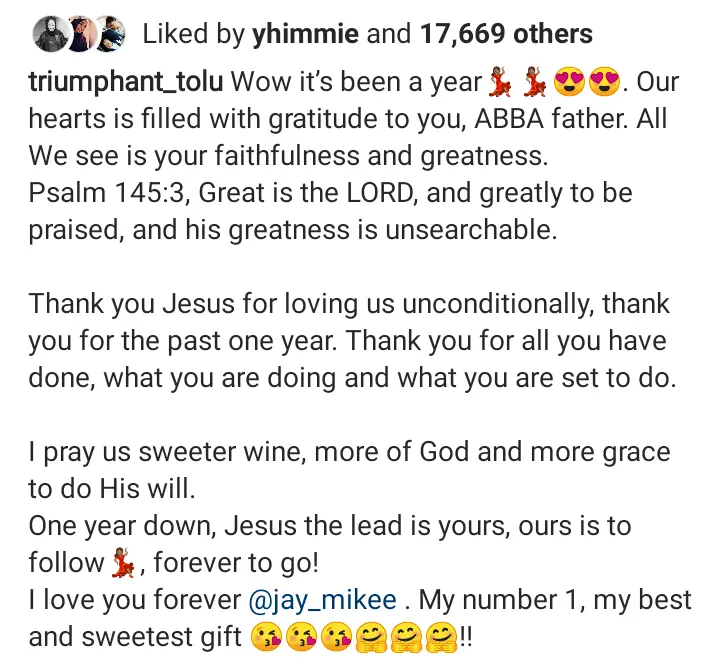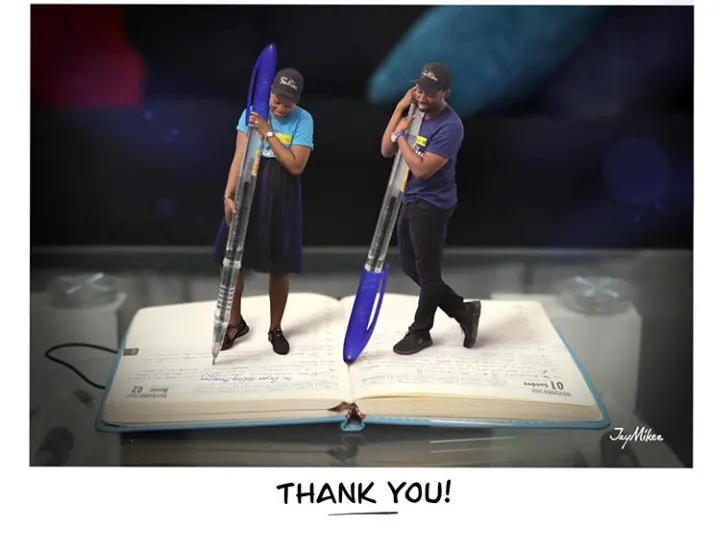 Even those who have been married for one year now have to be grateful because marriage is fun but can be uneasy for some people. It takes work, wisdom and grace to keep a home. Even though the devil doesn't like a good home, God does and people will always celebrate a good home.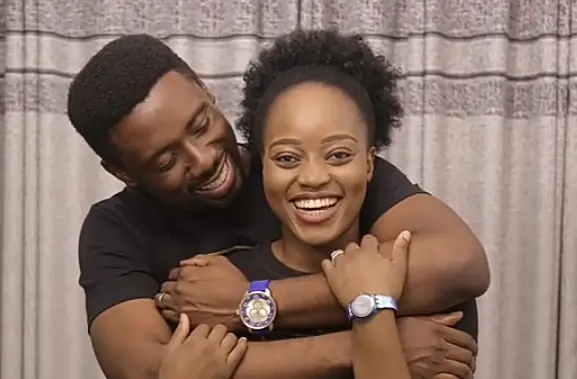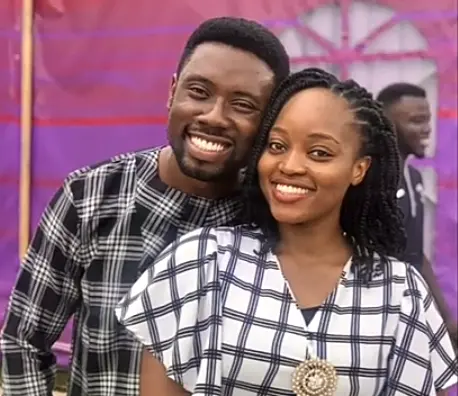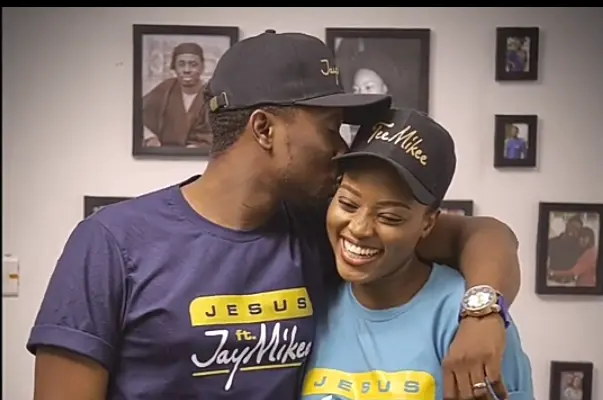 The marriage is a year old and to celebrate the anniversary, Joshua and Tolu did a video revealing how they met, using the Jay and Josh concept.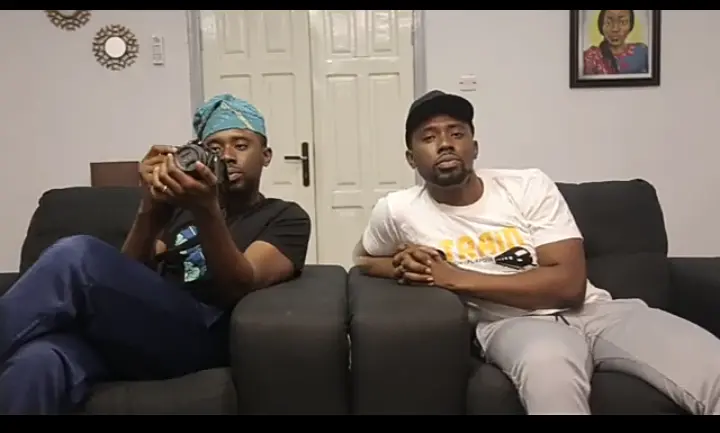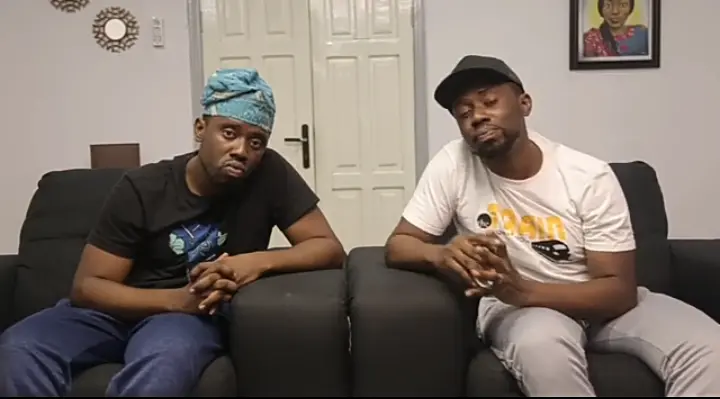 It started with the sharing of their photos and Joshua introduced himself as Jay Mikee and his wife as… Tee Mikey! Instead of 'how we met', Tolu emphasized it is 'how God connected us'. Joshua then told Tolu to go first in speaking.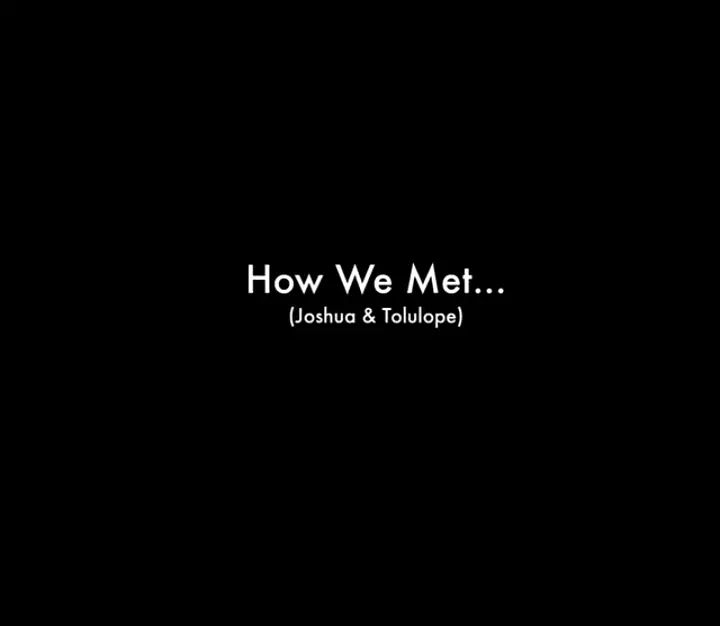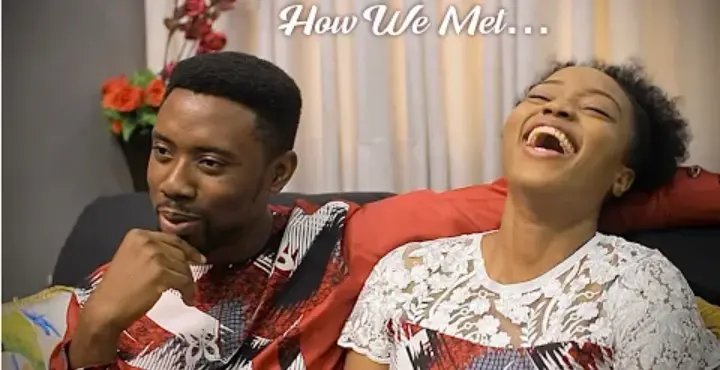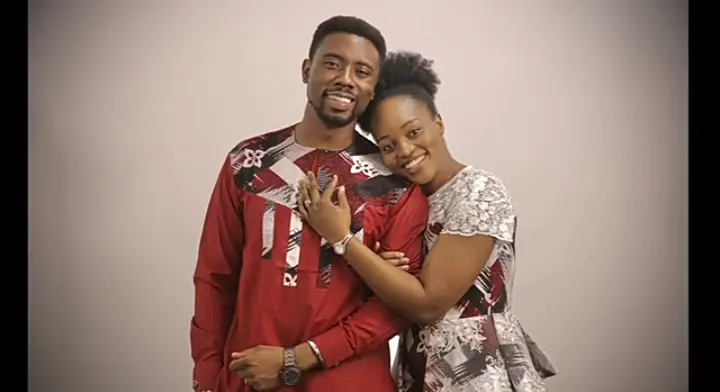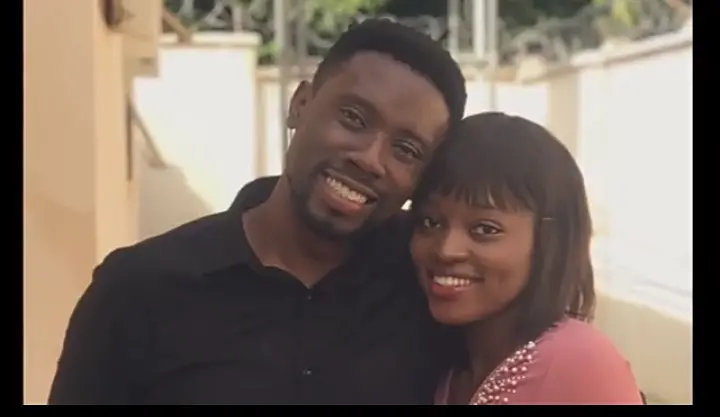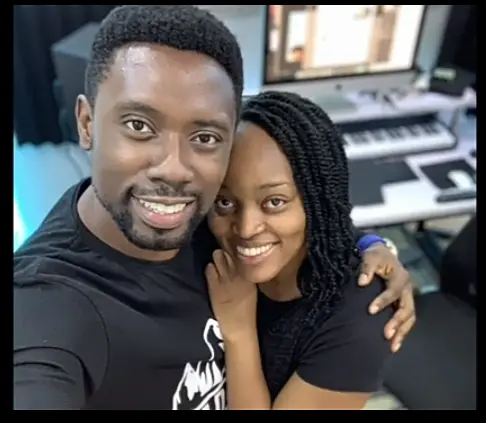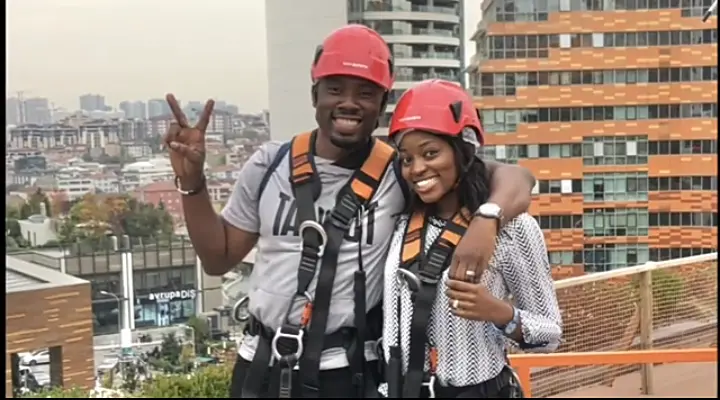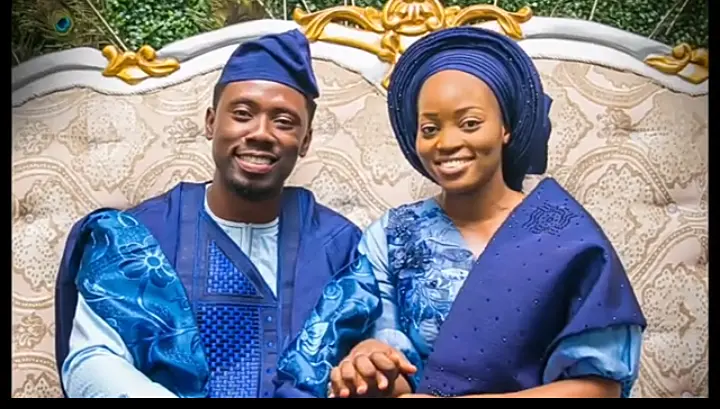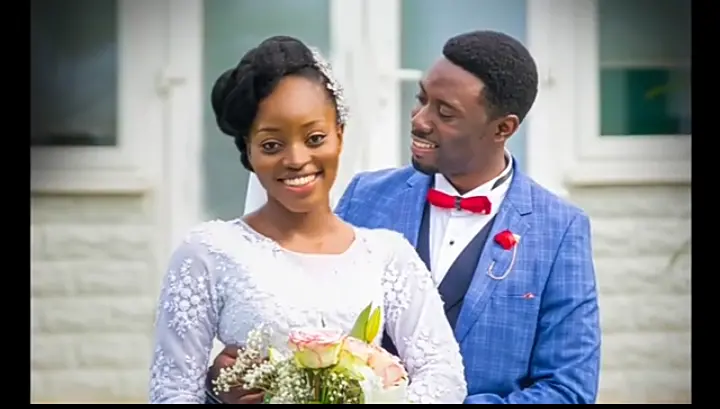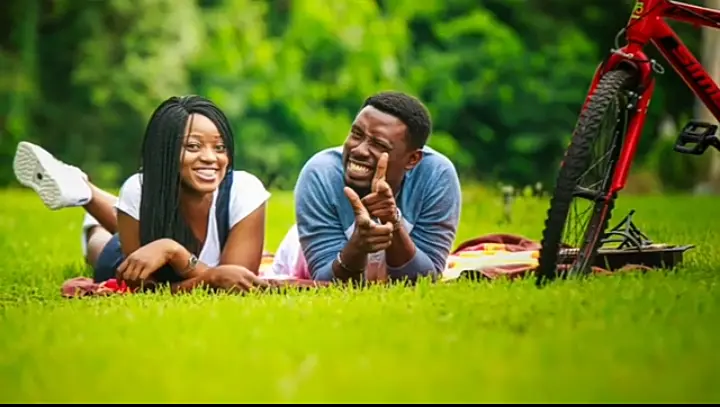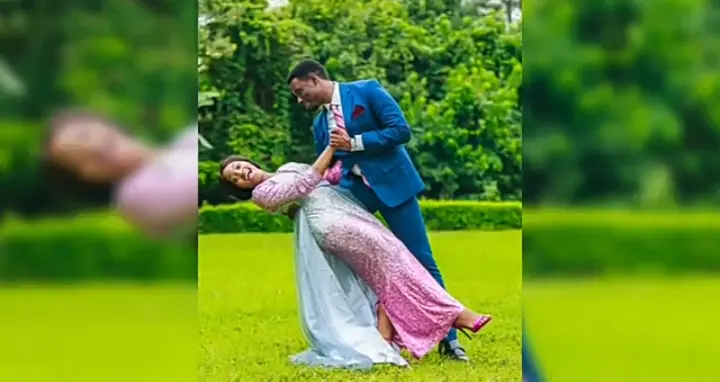 She said in 2017, while studying her masters in the UK, God dropped it in her heart while she was praying that she was going to have something to do with drama, she personally thought she was going to be a chorister majorly and drama as support because she enjoyed being behind the scene and helping in the background.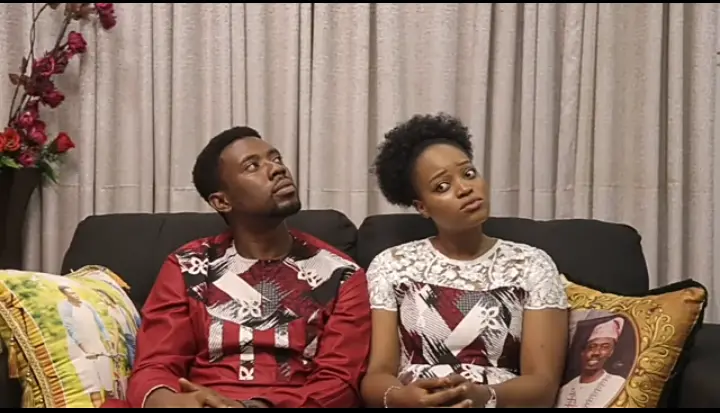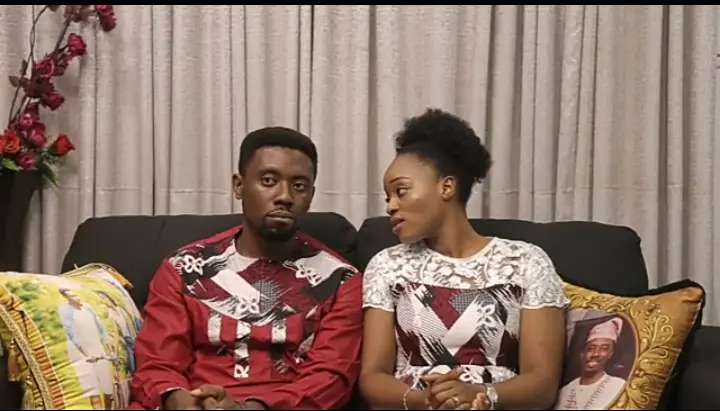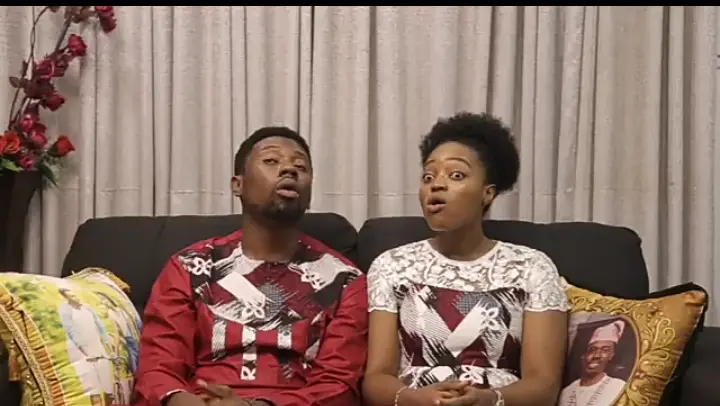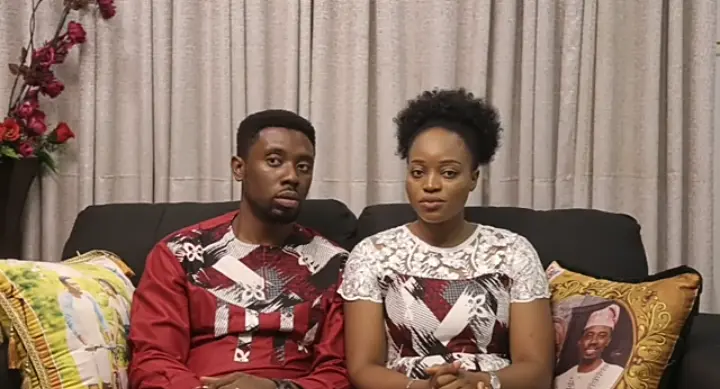 She didn't know how it will happen but she just told God she was good to go. Her dad who is the assistant General Overseer of RCCG runs a drama ministry called 'Faith Lift' and she thought that was where she was going to function and she started with them. She got a major role even though she wanted a 'waka pass' role and she enjoyed it.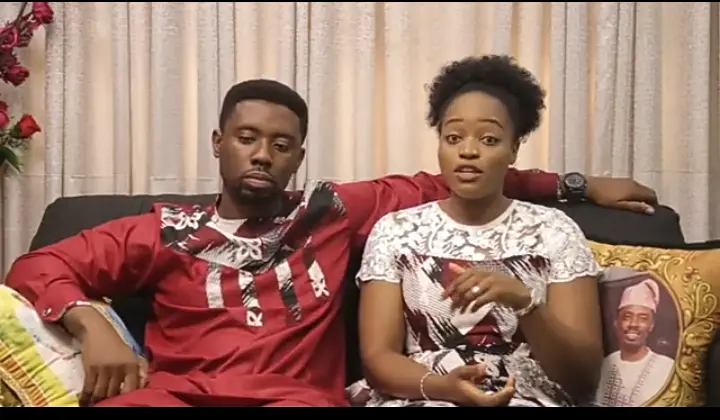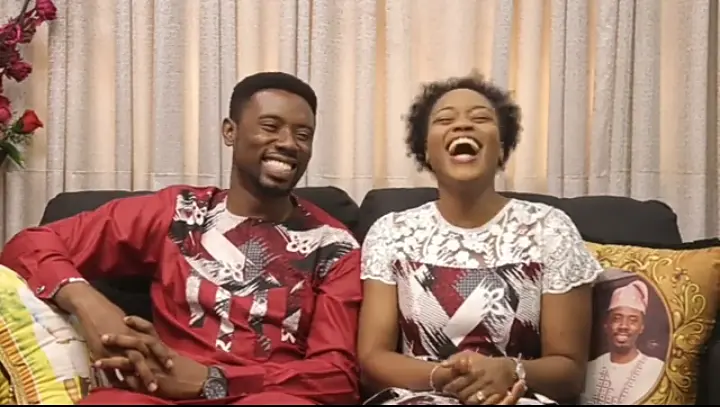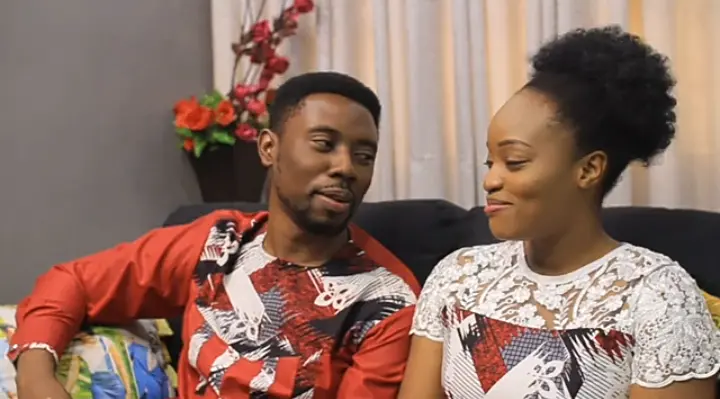 The director then told her that it would be nice to go to Mount Zion institute to know what drama was more about.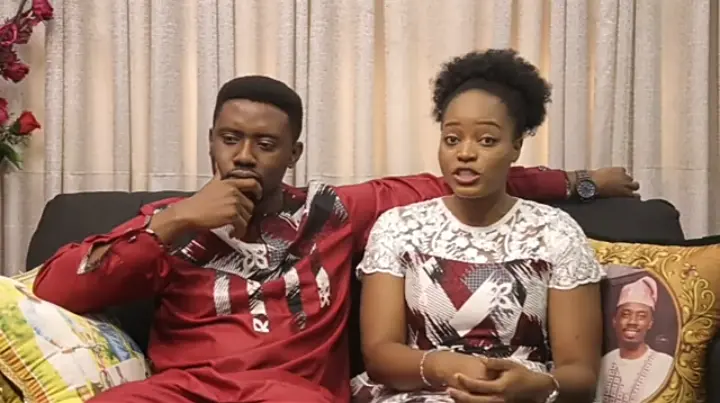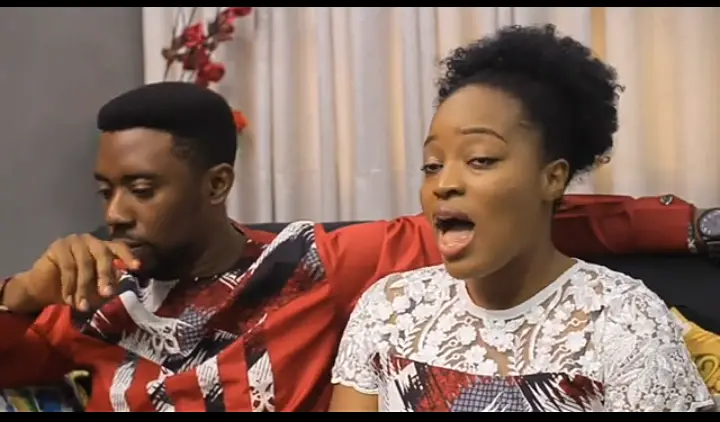 She was 'unusually excited' and she didn't know why, she spent two weeks and she got a major confirmation that she would get involved in drama and keep the fire burning in her dad's ministry 'Faith Lift'.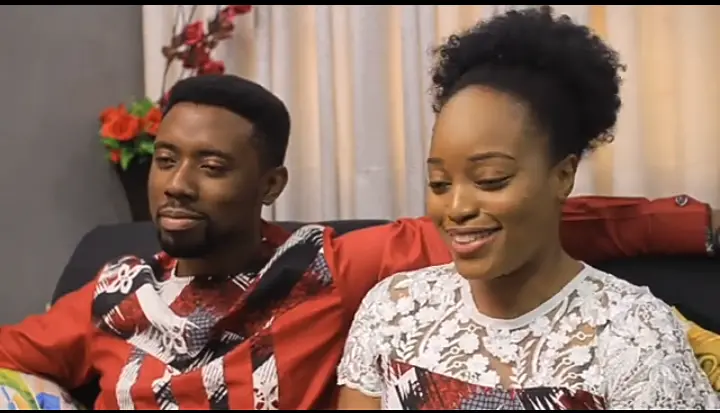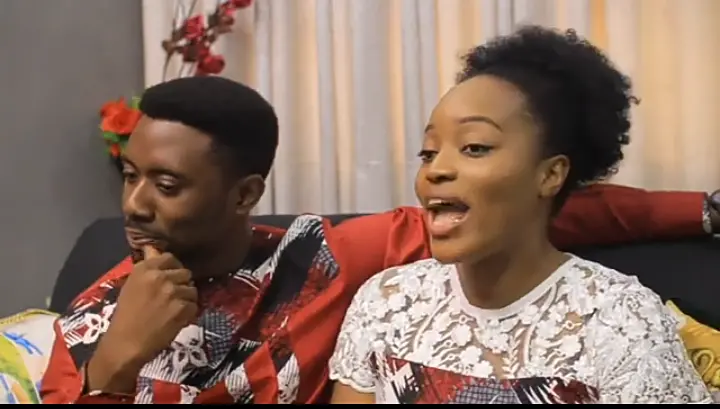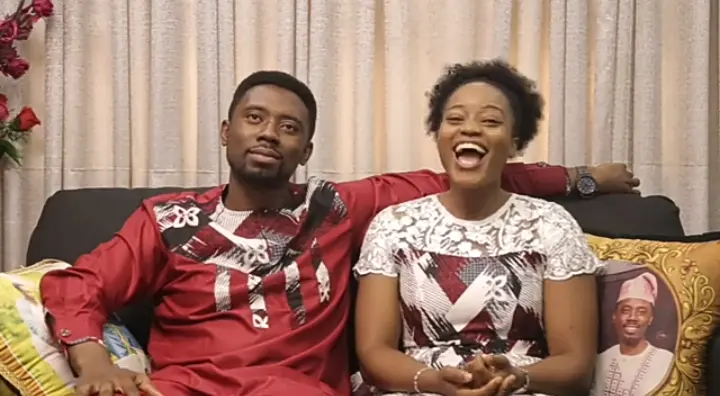 AND NO! THEY DIDN'T MEET THERE! She met only Dami and Mike Bamiloye even though Joshua was there. She left for home and started dreaming about the Mike-Bamiloye family but not necessarily Joshua, so she saw it as a message that she could be called to feature in a Mount Zion movie.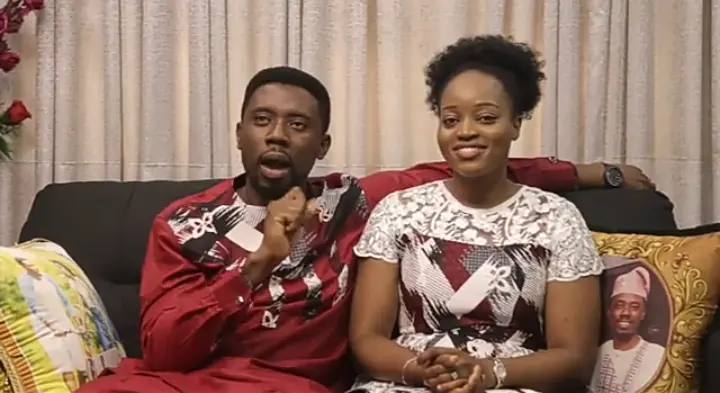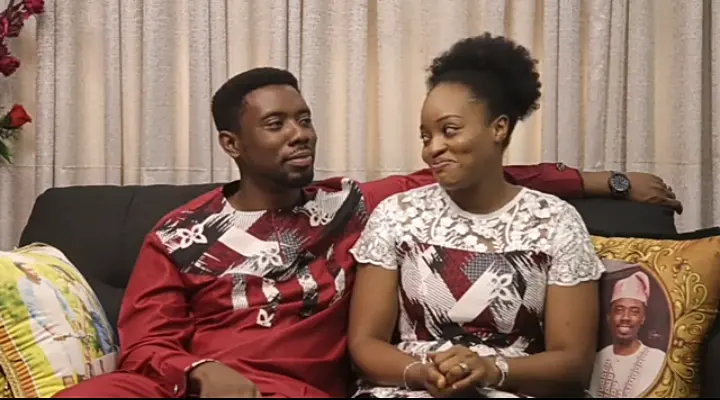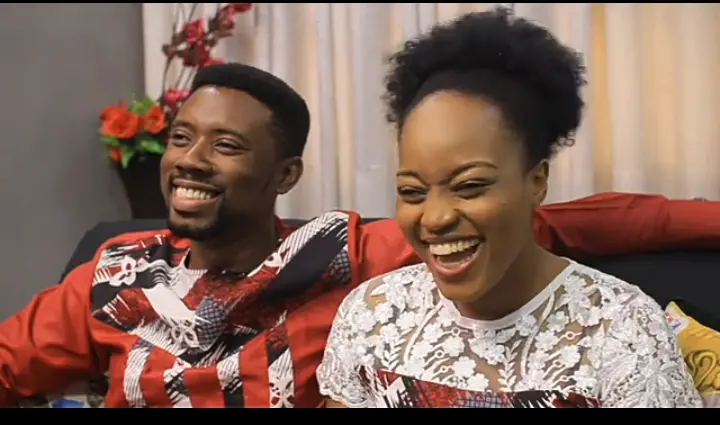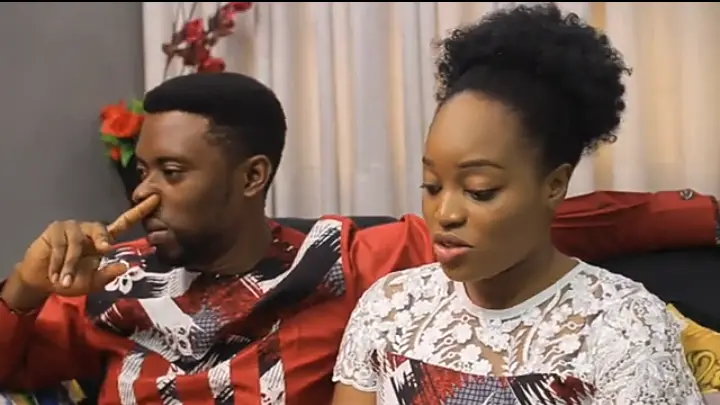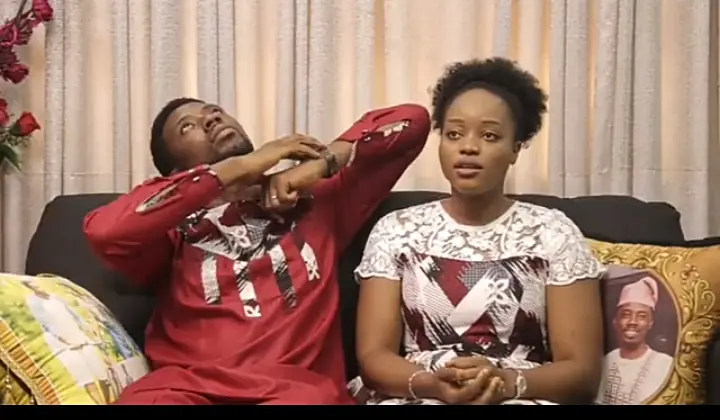 She then has a long list of suitors who were very good guys, she was praying about them but God wasn't saying anything.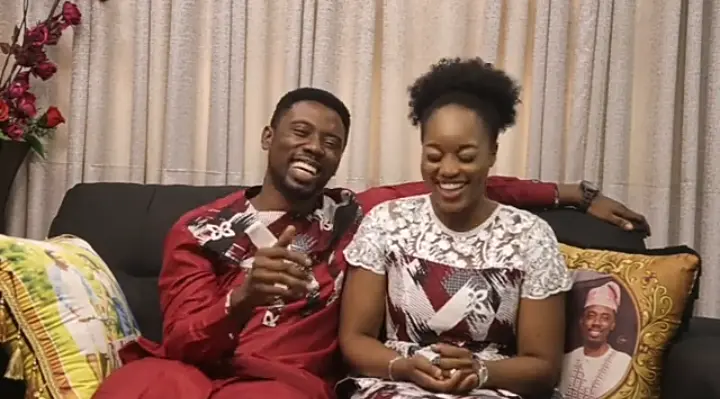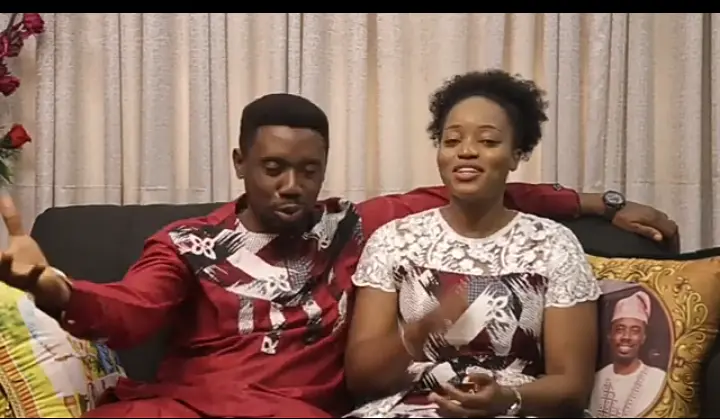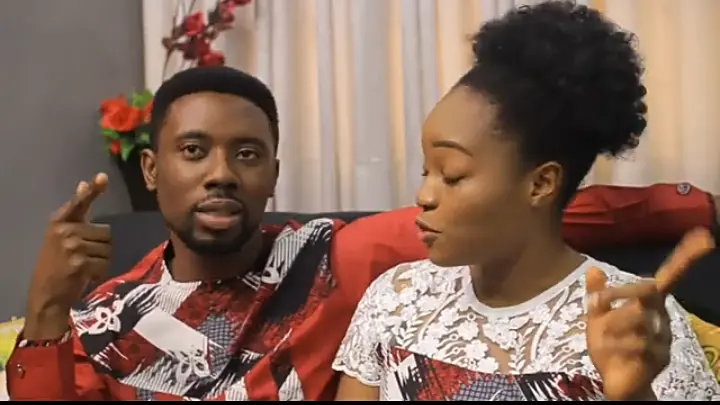 Gloria Bamiloye then organised a singles retreat, she said it was good and powerful. She went to greet Gloria Bamiloye and she was very pressed when they arrived and that was the first time she met Joshua 'properly'. There had been no proper introduction between them beforehand and Joshua said he didn't even know her name.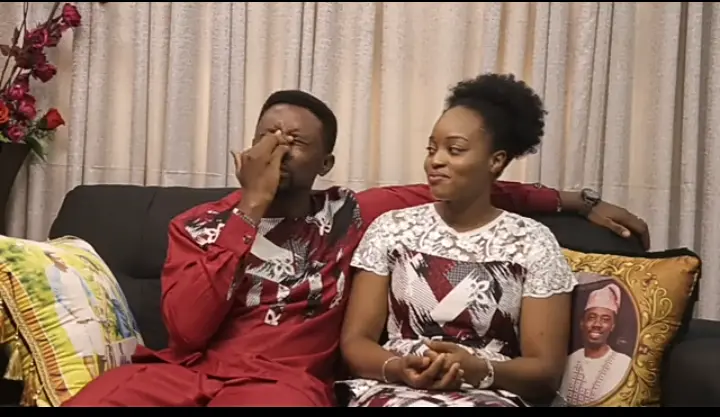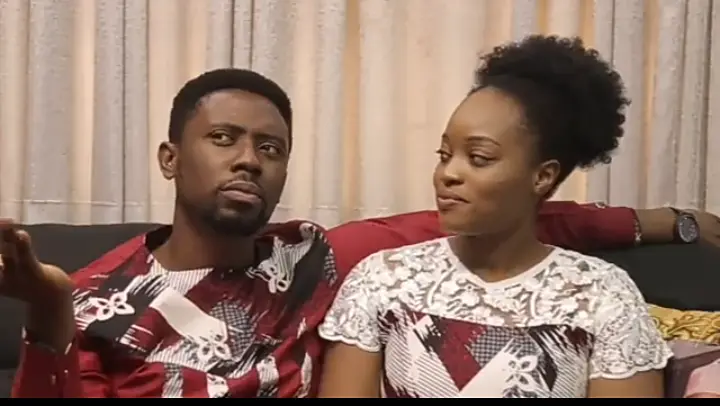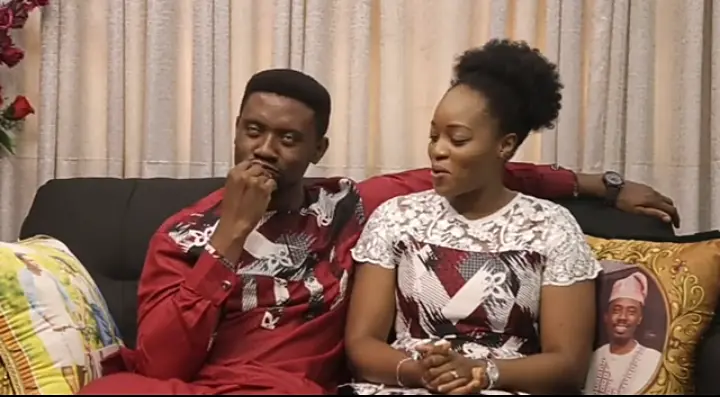 She asked him for the ladies and he directed her. Afterwards, they attended another session at the institute where Joshua was a lecturer and she said she enjoyed his class as he explained editing in a simplified manner.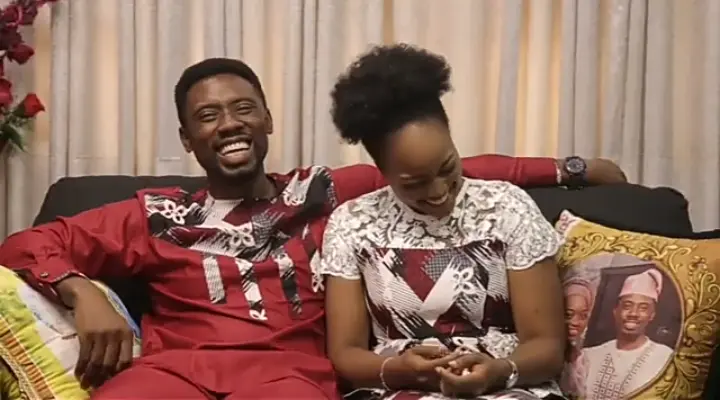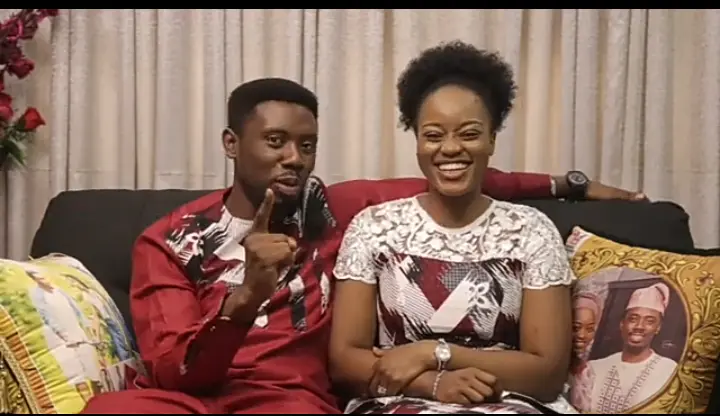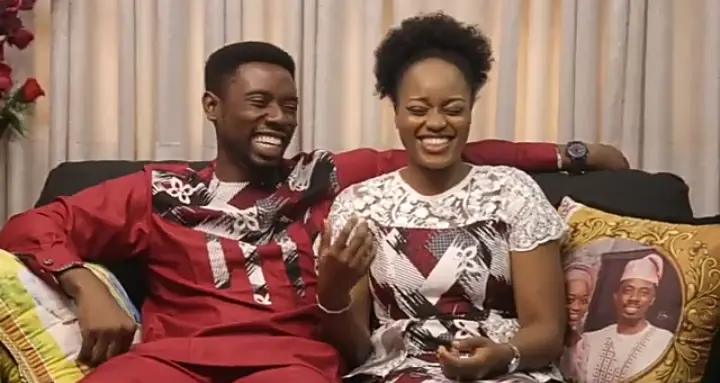 Joshua seems to be very detailed because he remembered the days some things actually happened as she was explaining the event, he said it was on a wednesday. On that wednesday, she was going to the dining hall to eat and she saw him talking to someone, they greeted and Joshua said his mum, Gloria Bamiloye, had a message for her. That was the end of her first part, Joshua spoke next.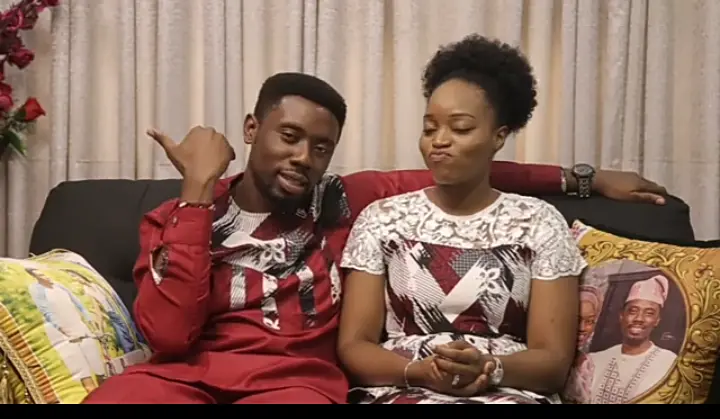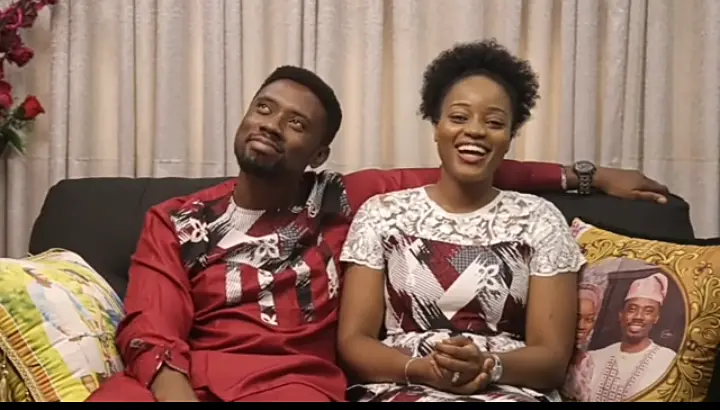 Joshua confirmed that he didn't see her in 2018 when she first came in May but he heard her talking to his mum and Dami. He was emotionally down, he had been through a break up. Dami called him to come and see her but he showed no interest. He confessed to opening the window to check those laughing but he didn't still see her.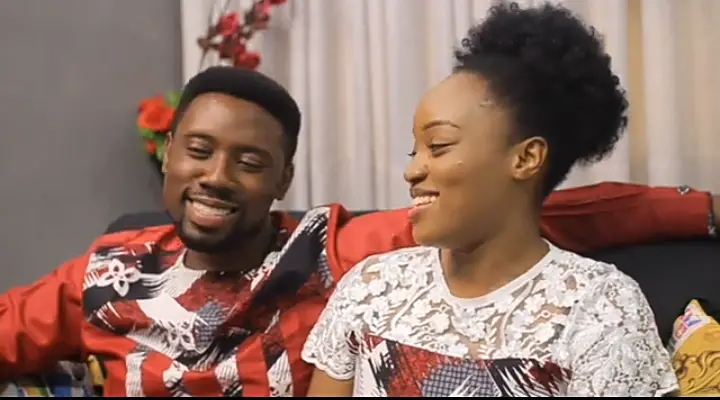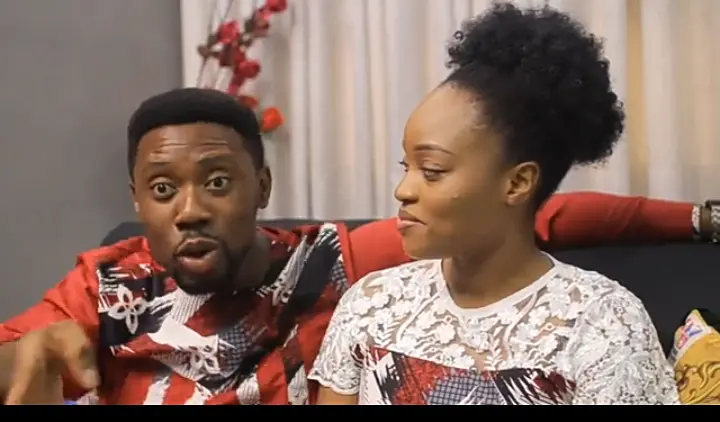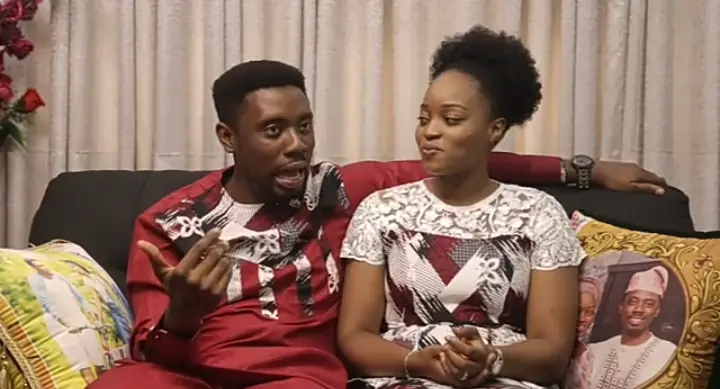 He saw that they were ladies though and that didn't even interest him because of his emotional status at the time.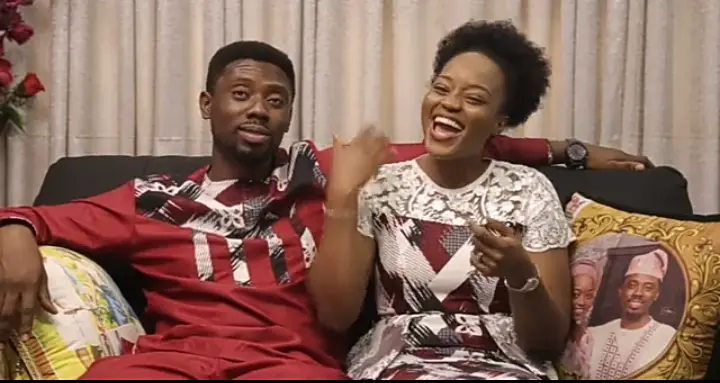 Coincidentally, she was in a group called 'House of Joshua' in the institute. Before then, Mike Bamiloye and his family had visited Tolu's family in 2012 at the redemption camp, they also didn't really meet then.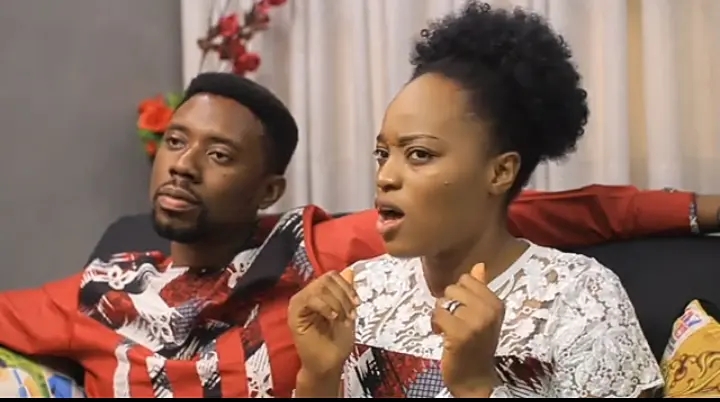 As Tolu narrated, she came to see his mum and that was when he saw her 'bright and clear' but didn't receive anything spiritually and there was no attraction.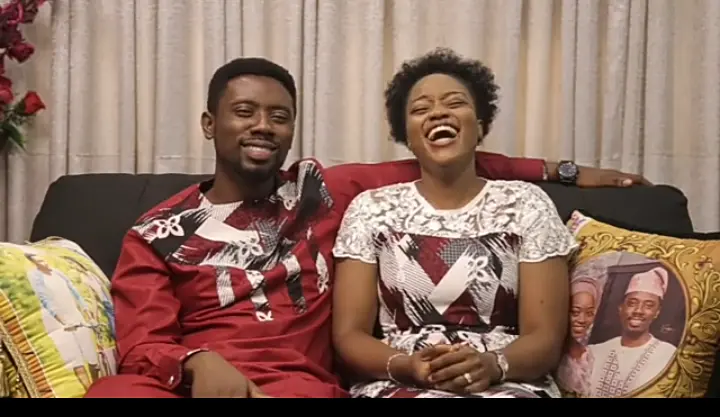 After the retreat though "ladies and gentlemen, things started occuring" said Joshua, "sleepless nights".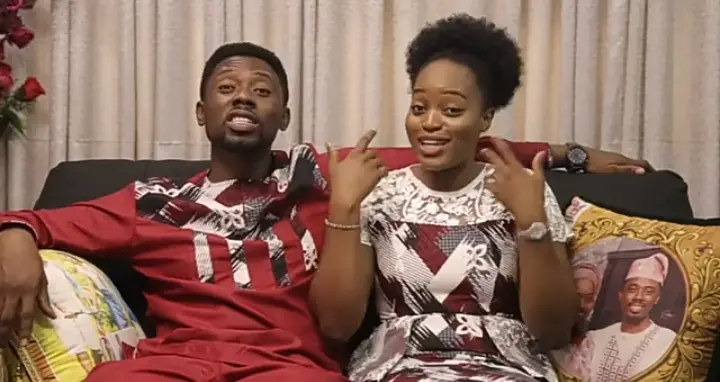 He said he was restless like the king couldn't sleep when Daniel was thrown into the Lion's den. He tried to sleep but woke at 3am only for her image to drop on his mind, why? He waved it off, tried to sleep and wasn't ready for another relationship. It happened the next day, he woke by 4am, her image again and he told God to make it clear and it happened the third day and the way God talks to him is by inner conviction and he knew it wasn't ordinary but God speaking with him.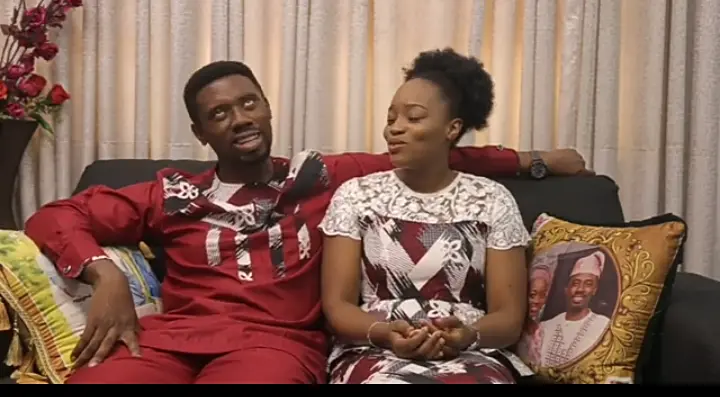 He started making moves in her direction, observing her, studying her, he was getting more convinced and having peace in his heart when he saw her. He then told his brother and parents.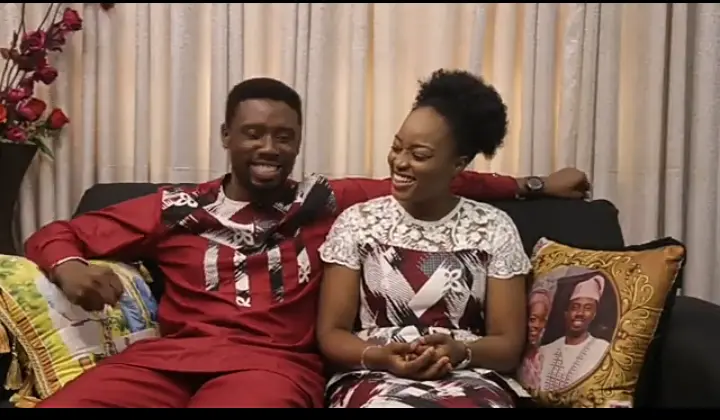 He started looking out for her during lectures, taking photos for the institute and intentionally zooming in when he was capturing her to 'give glory to the Lord' and she had no clue.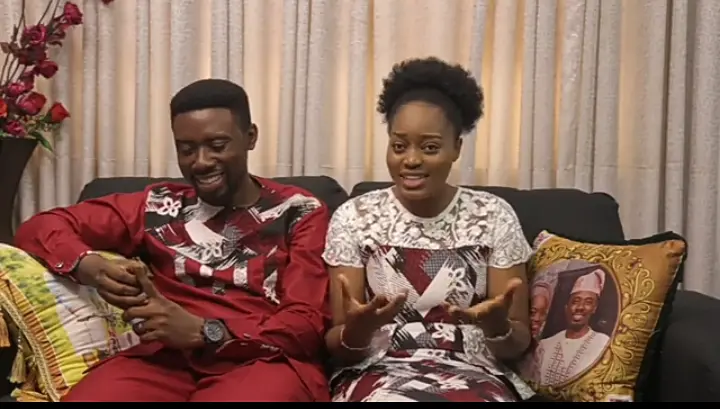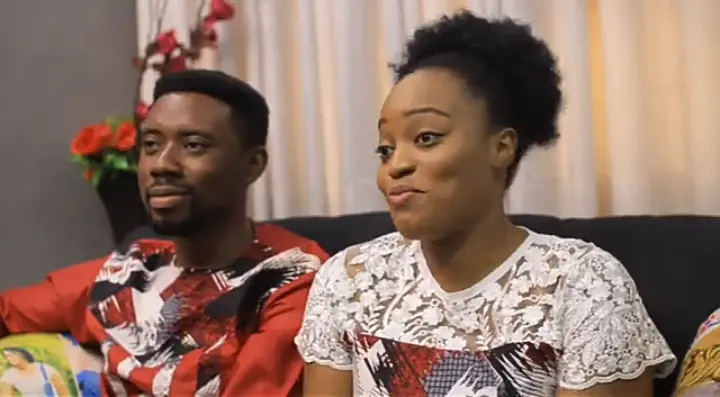 He prayed about it so he had to be sure, to have more confirmation. He then told his parents who are his spiritual parents. He then told God to confirm it by making his mum ask him about his relationship.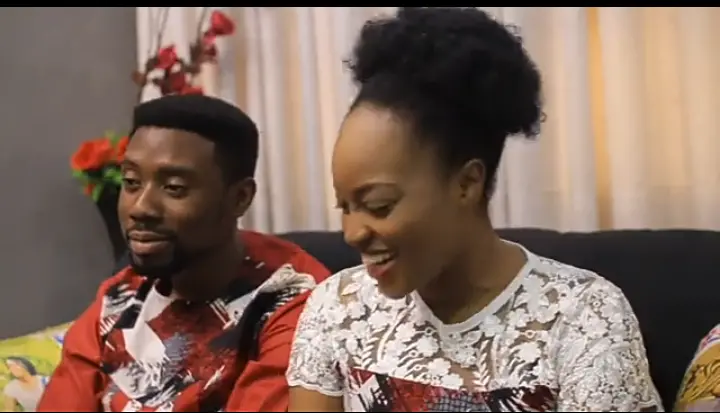 When the parents arrived, she didn't ask any question. He then went to tell Dami that "I don see am o", Dami was so excited and screamed "I knew it, I knew it!". He asked how he knew and he said when he was her he just said "this girl will make sense for my brother o, why do you think I was calling you to come and see then."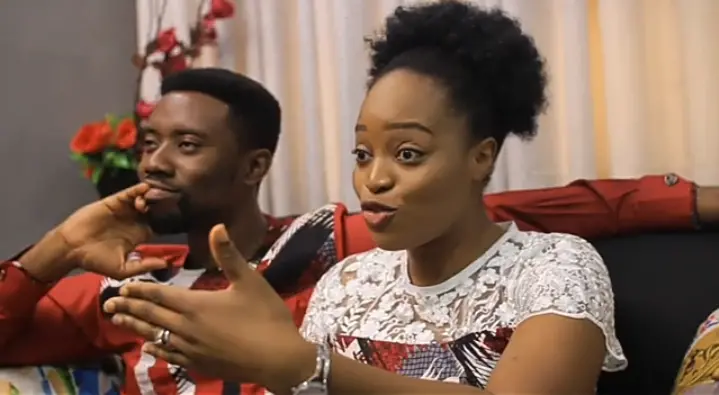 He got more excited and wanted to tell his mum and he just heard her coming towards the room, he opened the door and hugged her, she was like "what do you want to say? I know you want to say something." She then took held his hand, took him to her room, his dad was sleeping. Immediately she said "sit", his dad woke immediately and sat up.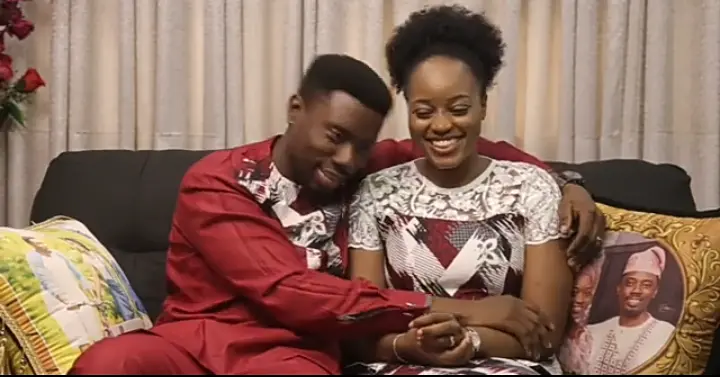 He told them all that he'd been going through and they both went "hmmm". Gloria Bamiloye then said she had received the same message much earlier, Mike Bamiloye said he had received the message too and they faced each other like "even you?"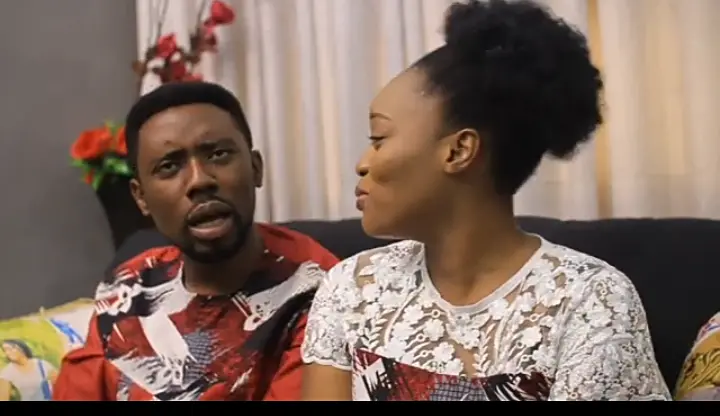 They said they didn't want to interfere and wanted Joshua to personally receive the message and that was why they didn't say anything about it and that solidified his decision.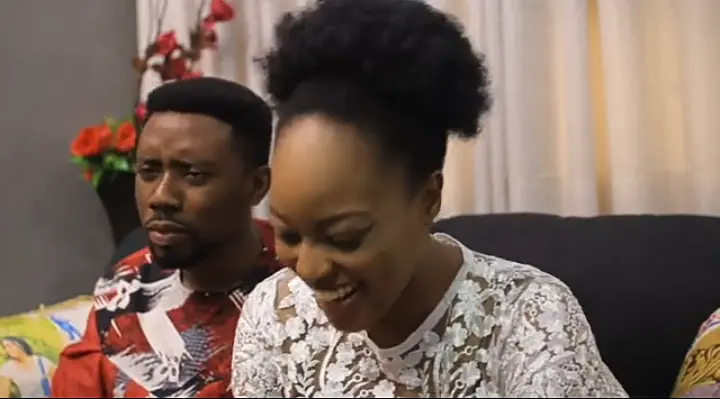 His dad told him to tell her that night as she was traveling the next day, it was happening do fast and he was to talk to someone he hadn't really had a proper conversation with.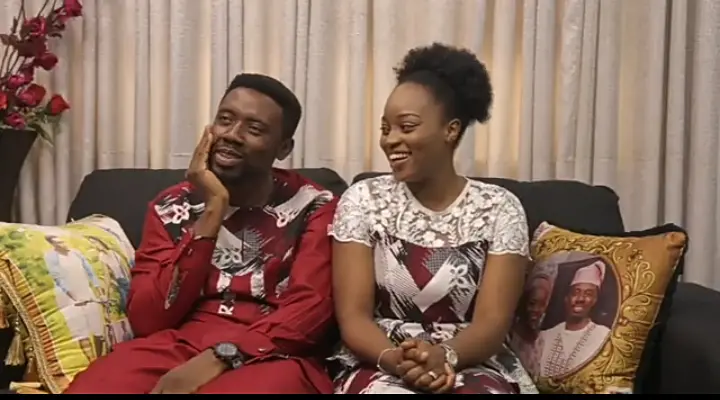 He looked for her but she isn't someone who goes out, she was always in the room so he waited for her in the dining hall. She didn't feel like eating but she just came out to eat for fun. He saw her at a distance, he excused himself from the guys he was with, he walked up to her and told her that his mum wanted to see her because it would have been weird to say he wanted to see her without having a previous conversation and he knew his mum was conversant with her.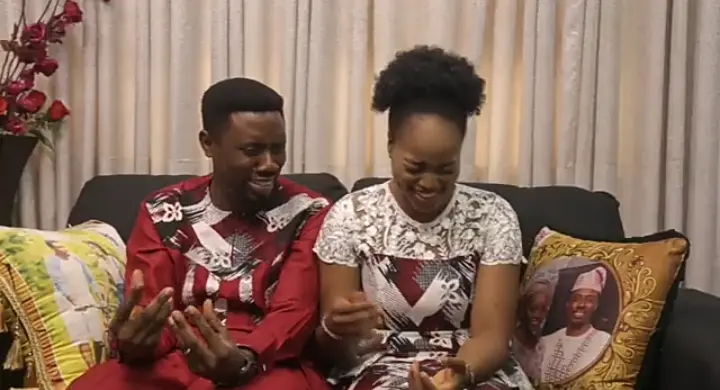 That's the junction of the narration and Tolu took over again.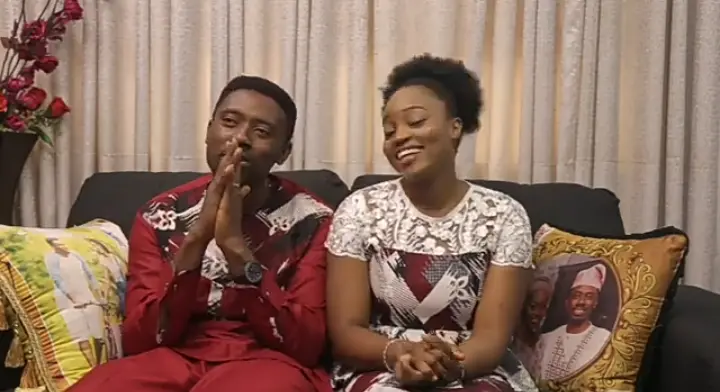 She didn't want to keep his mum waiting so he agreed to see her immediately, while he was taking her to see his mum, he started asking her personal questions about her school life, age and all.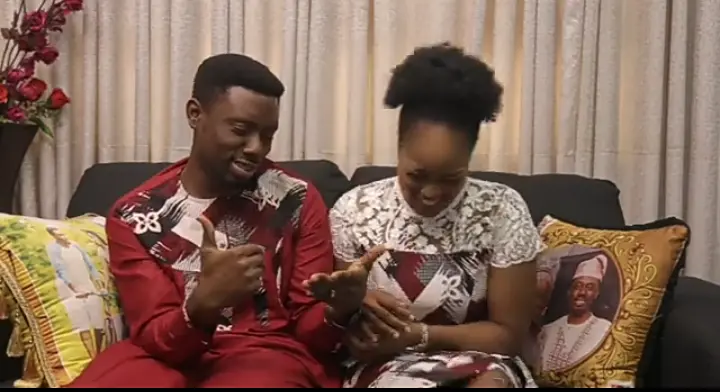 When they were almost getting to his mum, he confessed, that it wasn't really his mum that wanted to see her and she was like 'ooooooookay' and she still didn't have a clue.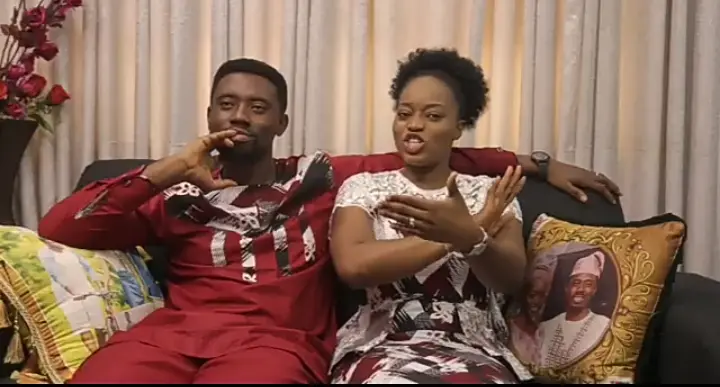 She was thinking it was about a movie she was going to feature in, well, a movie it was, lol. He then asked if she was in a relationship, it then started to click, she was puzzled on why a stranger 'now husband' was asking her those personal questions, like what was his business. She had all those in mind.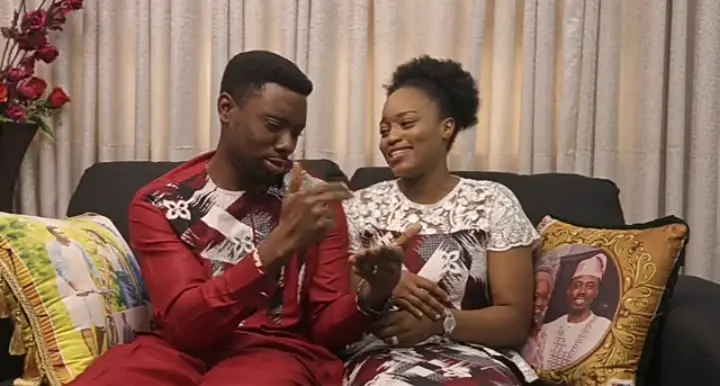 She was she wasn't in a relationship and in his mind he was like 'praise Jesus!'.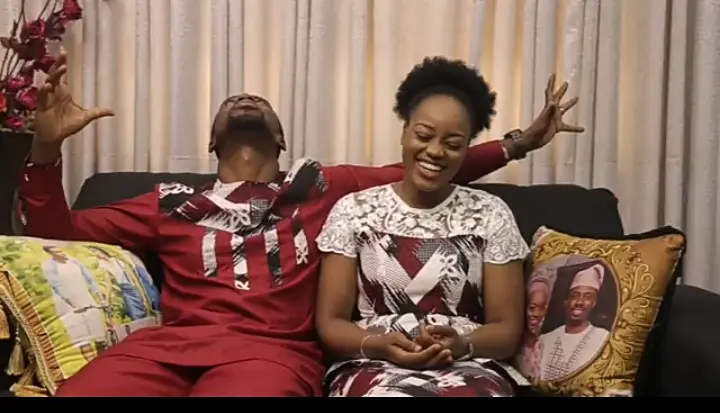 He then said "I believe God is leading me to you for you to be my wife", she looked at him and started laughing at her future husband, lol. She said she thought she was being pranked with cameras around! Joshua said "oh, she laughed so hard, she would look at me and laugh again!". And he was just there looking.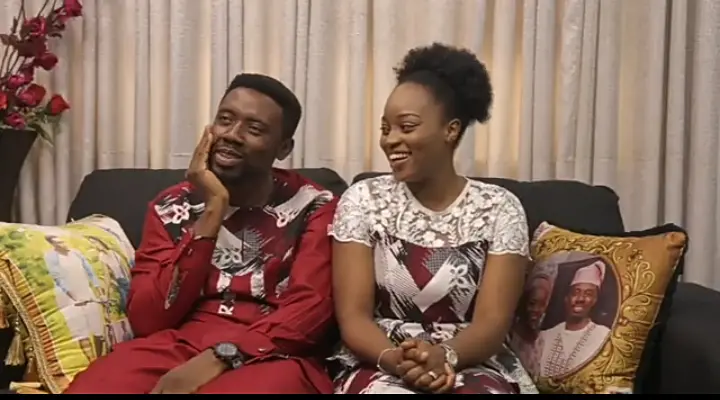 She felt how will someone just come, without knowing you and want to marry you. He then explained all happening and she said she will pray about it.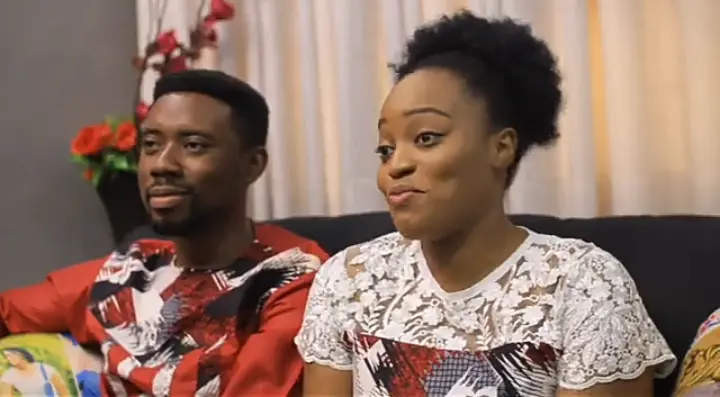 She then started remembering the dreams and it all started adding up and making sense. It was like a light just shun on the whole image she's been having.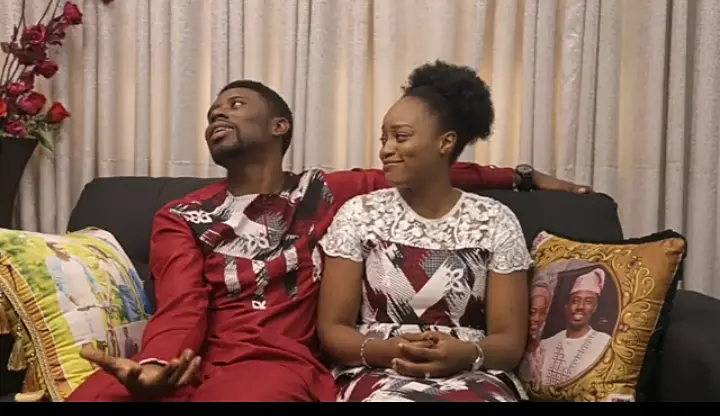 They exchanged number, he was excited and tried chatting her up but she would take 4-5 hours to reply, he even went as far as sending her a photo of her result beforehand and she replied shabbily like "thanks". He was shocked! And was like "my life".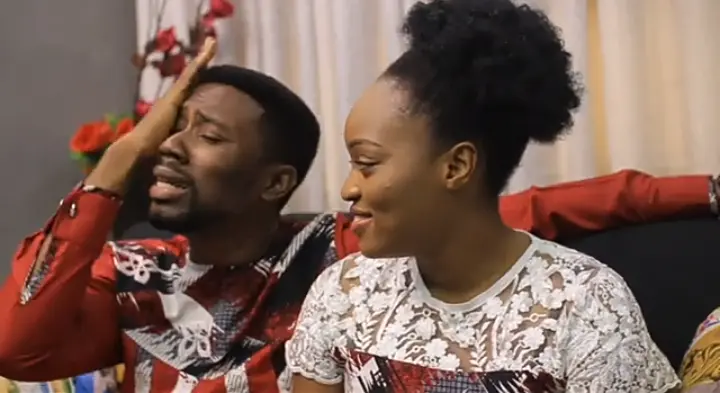 Conversations became so cold that he thought she didn't like him, she replied after days but after a while, it kept getting better.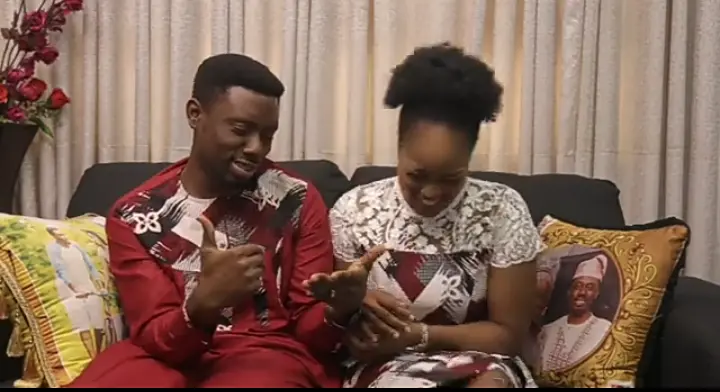 He wanted to withdraw at a point and his dad advised him that he shouldn't and that he needed to make her known him and be gentle about the whole situation. He was like "God, of all the people you will send to me, it is the person that doesn't send me at all that you sent my way."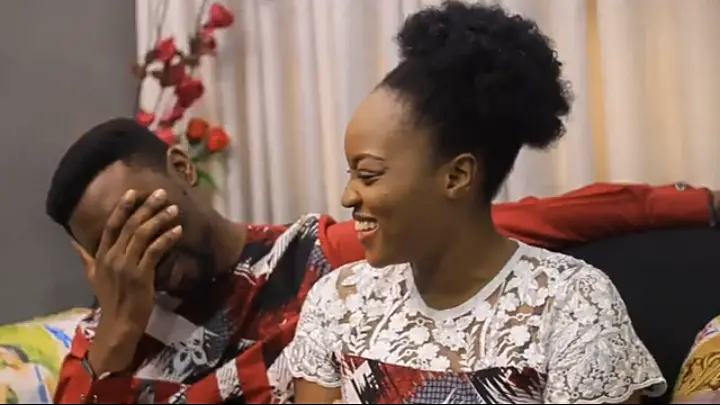 He was 7th on the list as she had other suitors. She went back to God and the final confirmation came when she was praying and something dropped in her spirit, only for Joshua to chat her up that evening and what he said his parents told him was what she had heard in her spirit. She was in shock!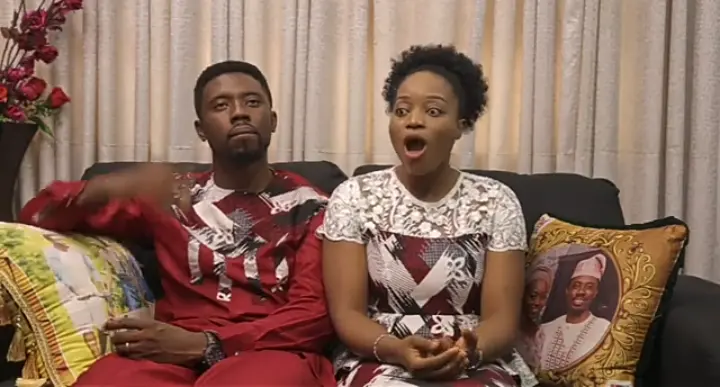 It was at that time that their conversation graduated from chats to phone calls.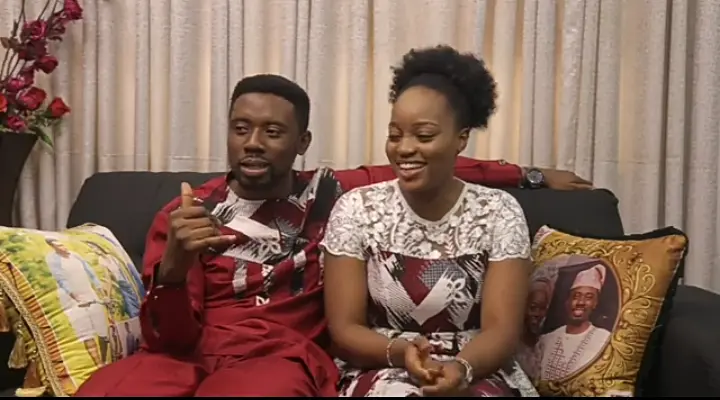 They then graduated into another phase, from robotic to question and answer phase, he said she asked him all manner of questions. She checked his opinion and mindset towards many things. She was mentally demanding!
She then told her parents, they prayed and were convinced. Her pastor prayed them into courtship and it was during the time Dami and Ella were getting married.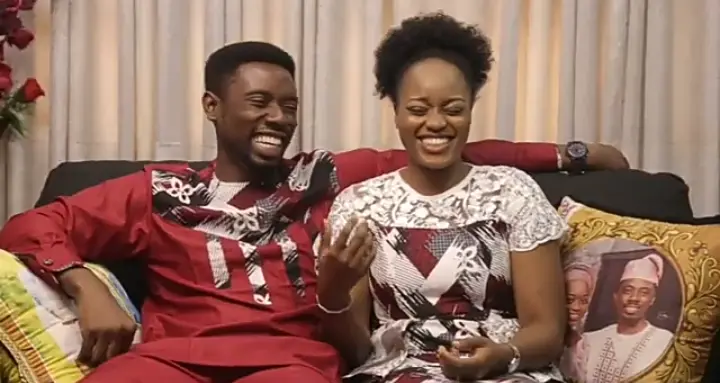 The courtship was excellent and they read lots of books together and there were boundaries.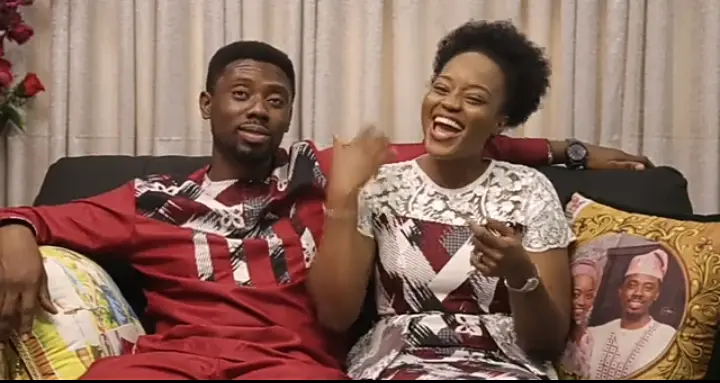 In their one year in marriage, God has been faithful and God had been the center of their home according to Tolu. Joshua said it has been an amazing journey and he has proven that two can indeed chase ten thousand.
Share this post below
??
Want To Advertise On Nobelie?
Click Here
Or Chat Us On Whatsapp
+2349028041964
| Send a mail to
realnobelie@gmail.com or ads@nobelie.com
NOTE:- After Dropping Comment Wait A While, Your Comment Will Appear After Moderation!!