Meet Idahosa's spiritual Father and Mentor. See how they met miraculously.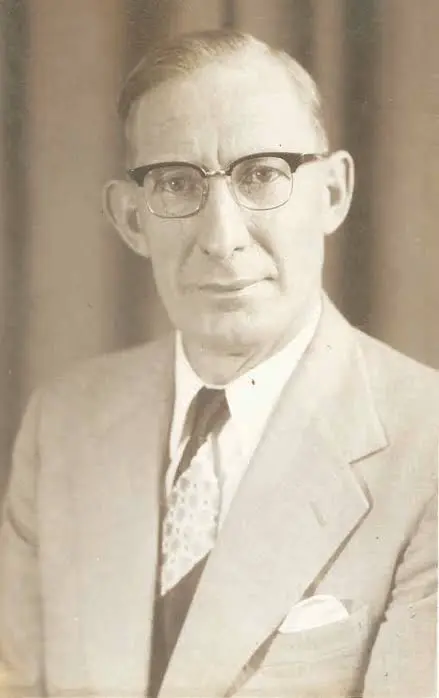 While this is not the man that first brought Idahosa to Christ, however, it was through this man Idahosa received guidance and help that introduced him into international opportunities and exploits.
His name is Pa Sydney Granville Elton. He is actually the main Father or Grand Patron of Pentecostalism in Nigeria and across Africa.
He is a British who left Britain in 1937, and came to live in Nigeria with his family for the rest of their lives.
Among other Great men he raised in Nigeria include Apostle Babalola, Pa Adeboye, W.F Kumuyi, Bishop Oyedepo, Francis Wale Oke, Gbile Akanni, etc.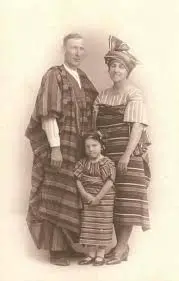 According to the writings of Ruthanne Warlock, this was how Archbishop Benson Andrew Idahosa met his spiritual Father (Pa Sydney Granville Elton):
Alone in his bedroom one day as he was praying about the problem when the Lord spoke to him very clearly: "I have a servant in Ilesha named Elton whom you have never met. Go there and see him".
Benson even had a vision of what the man looked like; he was a white man with gray hair, about 60 years old.
Benson told one of his elders about the vision, asked him to accompany him to Ilesha to find this man the Lord told him to see. But before they got off on the trip, Benson saw a missionary he knew and mentioned that he was looking for a man named Elton, thinking the missionary might be able to give him directions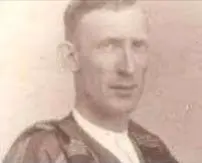 "Oh, yes, I know him," the missionary said, "but you must not go to see him. He is a wicked man. Furthermore, he probably wouldn't let you into his compound, anyway".
"I must obey God," Benson responded. "I will find the man, and he will see me.
"I will talk to him and reconcile the two of you," Benson said confidently. And he went to the bus station to buy tickets.
The trip to Ilesha, 175 miles northwest from Benin City, took about 6 hours over rough dirty roads. Upon arriving there, Benson began to inquire whether anyone knew a man named Elton. "I know a man who knows him", someone told him, and gave the two men an address.
They hired a taxi and spent the last of their money to get to the man's house.
"Yes, I know Elton," the man told Benson. "Whatever you want to tell him, you can tell me and I will deliver the me."
"God didn't tell me to see you," Benson protested. "He told me to see Elton. He even showed me what he looks like."
" I'll make a phone call for you," the man agreed.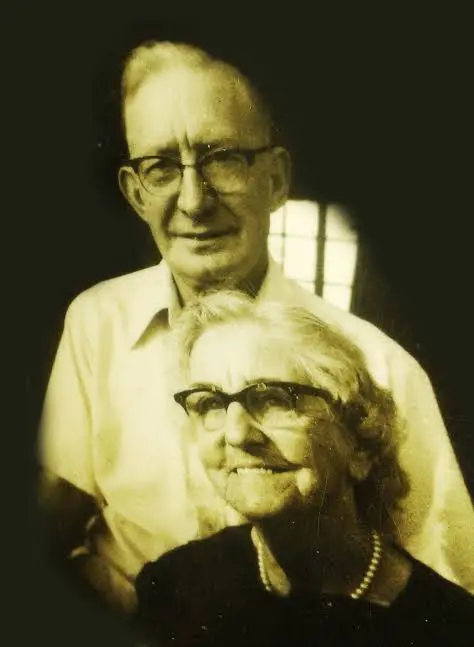 Benson and his Church Elder could overhear one end of the conversation: "Hello – Brother Elton? I have a stubborn young man here from Benin City named Benson Idahosa. He wants to see you, says God told him to come up here and find you."
After a brief silence, the man hung up, turned to Benson and said, "Well, he says for you to come and see him. But I am sure that I should tell you how to find his place."
"I want you to lay hands on me and pray that God will show me the way," Benson said.
A bit bewildered, the man agreed, and Benson knelt in front of him. After the prayer Benson got up to leave, but suddenly turned to the man and said, "I have a feeling in my spirit that God wants you to drive me to Elton's place."
"I don't want to go," the man protested.
"You will go, Sir," Benson replied. "You have prayed and I believe you are a man of God".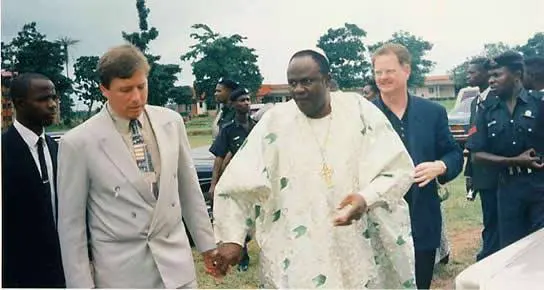 The three of them got in the man's car and started out, but halfway to their destined the man rebelled completely. "I am not going any further," he declared, stopping the car.
"Okay, if you will not take us there, then give us the money to continue by taxi," Benson asked.
The man gave them 2 Shillings (about 24 cents) and dropped them at the side of the road. Benson hailed a taxi and they continued their journey.
When the driver pulled up at the gate, a white man was standing there waiting for them. "You are the man from Benin City, aren't you?" he said.
"Yes, and you are Brother Elton," Benson replied, offering his hand. "You are the man God showed me. The Lord has called me to come see you and ask you to be my father in the ministry."
Elton shook his hand warmly. "Come inside," he invited. "We have many things to talk about."
When they were settled in the parlor of the mission house, Mrs Elton served Tea and Biscuits to the guests from Benin City.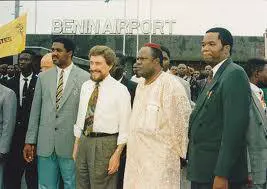 "I have heard of you for months and wanted to see you," the older man said to Benson. "I am glad the Lord has brought you here."
Benson smiled and put his teacup down on the table. "The devil put many obstacles in our path to keep us from finding you, but I know this is God's will," he said.
Elton listened as Benson and the Elder described the work in Benin City and shared what God was doing in their midst.
"We will be grateful for any advice or any kind of help". Benson said enthusiastically.
"Our people and friends in the community have sacrificed to give to the building fund, but we will owe for the roof."
"One thing I can do is to help you get funds for the roofing costs," the older man volunteered. "A friend of mine in the States, Gordon Lindsay, has a missions organization which assists groups like yours."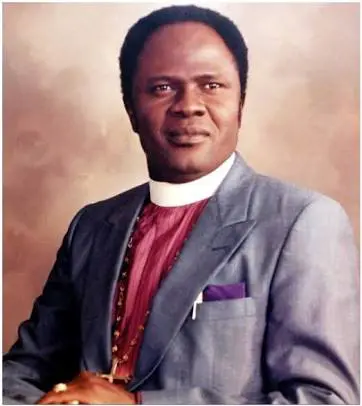 At the end of their visit, the men concluded that they should get together at least once a month so that Elton could give advice and direction to the ministry of the Church. They would alternate meetings between Ilesha and Benin City.
Elton drove them into town to catch the bus back to Benin City, and gave Benson an offering of 7 pounds (about 16 dollars) when he said goodbye.
Bumping over the ruts and bumps on the road home, the young Preacher rejoiced that God had helped him find the man in his vision. But he could not possibly know at this point that through Brother Elton another door was about to open.
…The End…
Isn't God wonderful?
Like, share and comment.