I am not really a social media savvy person, but I can imagine the joy someone will have when they cross the one million mark. It means that their influence is spreading as they have much more people they can directly influence with their posts.
Becky Enenche, wife of the pastor of Dunamis International Church, Paul Enenche, has celebrated crossing the one million followers mark on Instagram. She shared a post where she gave glory to God for this feat, with the caption "Let's reach the world for Jesus!"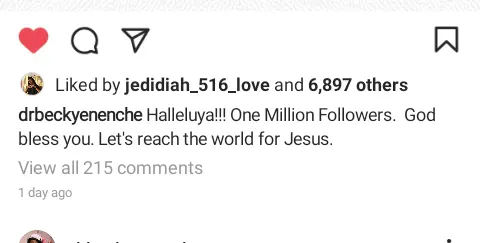 It brings so much joy to me because I can see her reaching out to more people, and shaping their thoughts and decisions with her posts. You see, social media is a very powerful tool. Celebrities can cause people to make certain choices just by making a simple post on Instagram where they share their thoughts on issues. Why shouldn't the christian leaders and the christian community utilize this tool to influence the world for Jesus?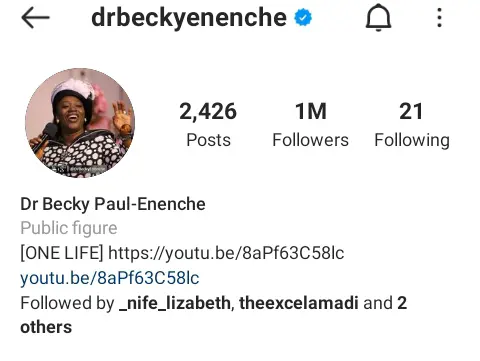 There are so many people who need some form of christian influence in their area of interest or calling. Social media presents that opportunity, and we shouldn't be aloof about this. Social media might be the devil's tool to cause a mass exodus to hell, but we need to make the pendulum swing to our side. We need to get more followers and promote more christian content on our pages, thereby causing more people to be reached for Jesus. Be blessed.