Pastor David Ibiyeomie Reveals One Of Things A Believer Should Do To Experience God's Protection
In my study of the Bible and listening to messages by anointed men and women of God, I have come across passages that contain God's promises to preserve those who put their trust in him. Valuable things are preserved from being destroyed, and as far as human beings are concerned, there is an enemy that goes around looking for someone to destroy. However, Pastor David Ibiyeome has revealed one of the things a believer should do to experience God's preservation.
The founder and senior pastor of Salvation Ministries, Port Harcourt, Nigeria, preached on a message titled "Divine Protection" and said that God has promised to preserve his children, and this is one of the reasons why he instructs them to pay the whole of their tithe so that he can bless them and also rebuke the devourer from destroying their labor.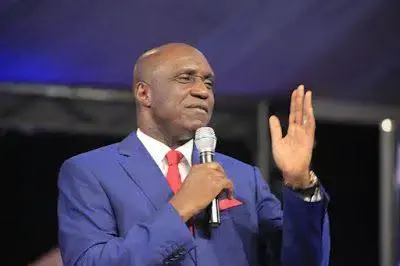 The respected man of God pointed out that paying tithe is one of the things that will make God preserve anyone who is faithful to tithing, and that when one seeks the kingdom of God first, protection will be added as part of the additional blessing to such a person.
He further explained that a believer's preservation on earth is tied to his or her availability to serve God. Freedom from bondage, satanic attack, and demonic oppression is also linked to one's readiness to serve God with all their heart.
Please drop your comment below 👇👇