The Holy Bible stopped a bullet that was meant to pierce my heart – Ex-lawmaker shot by kidnappers open up
According to a news that was published by the Vanguard Newspaper online this morning, it was reported that the immediate-past member, who is representing the Umunneochi State Constituency, in the Abia State House of Assembly, Hon. Ikedi Ezekwesiri, has narrated how he escaped, after been shot by kidnappers in Umunneochi.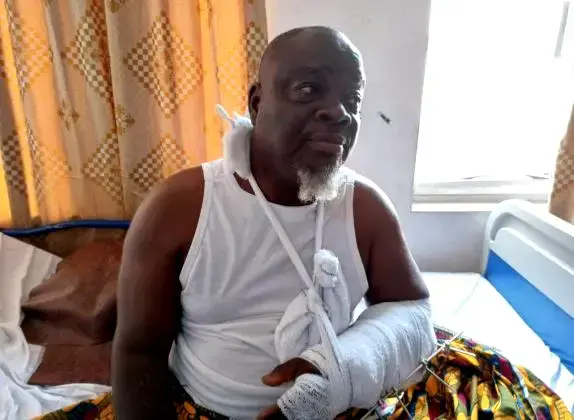 While he was narrating, he said the incident occured about 5:00pm on Wednesday evening, when he was returning from Enugu State.
While he was narrating his ordeal to Vanguard correspondent, from a hospital bed in Umuahia where he is hospitalized, he said that but for God's intervention, he would have fallen prey in the hands of assailants and that if anyone has not been taking God seriously, the person should start now because, God rescued him.
He said he was returning from Enugu State and around 4:45pm in the evening, he branched off from the Enugu-Port Harcourt expressway at Leru junction and headed home and as he descended the hill and raced towards Lomara Junction where there is a military checkpoint, he saw four boys from the bush with guns and being conscious of the environment, he drove towards them to scare them to pull out of the road, and he managed to escape from them.
He said, "As I accelerated, I did not know that there was another group ahead so, as I was coming, five of them rushed towards me with guns and in a split of seconds, I had my opinions: Go for them so that all of us will either go to heaven or hell or how do I escape them ? But for the grace of God, by the time I swerved, the car did not skid and they were shooting but I did not allow them to get my tires.
Bible stopped a bullet that was supposed to pierce my heart, the Bible was on my dashboard and the bullet got stocked there."
Further talking, he said as he moved beyond them driving towards Lomara Junction, at the military checkpoint, he saw someone who appeared like a marksman and targeted him, and within seconds, he discovered that his left hand became very heavy due to gun shot. But, he managed to drive with one hand and blood was flowing everywhere.
He said, "I increased my speed, and when I got to the military checkpoint I stopped and explained everything to them."
Source: Vanguard