Tope Alabi shut down iperu iremo, with a 4 hour performance for alaperu
Iperu-remo town in Ogun State recently witnessed a huge turn out of dignataries who converged on the palace of Oba Adeleke Idowu Basibo, the Alaperu of Iperu for this years Iperu King's Day of Praise, to mark the 19th Coronation Anniversary of the King.
It was a great opportunity for Iperu people to raise their voice to worship The King of Kings. The event took place on 29th March 2021` and it kicked off at 7.30pm, about an hour after the scheduled 6pm take off time. Below is the report of the event.
ABOUT THE CHIEF HOST

The Chief Host was HRM, Oba Adeleke Idowu Basibo, the Alaperu of Iperu who has brought great development to Iperu. Born on March 13, 1957, he is the 21st Alaperu of Iperu & the 5th Prince from Odoru Ruling House to ascend the throne of Akesan-Odoru V.
He is the last born (only son) of his mum & married with 5 children. Oba Basibo was born 64 years ago at the maternity centre located (quite significantly) at the entrance of his Palace.
Kabiyesi was presented with the Staff of instrument of office as the Alaperu of Iperu by the then Deputy Governor of Ogun State, Alhaji Gbenga Kaka on Saturday, March 30, 2002.

Lets tell you more. Alaperu of Iperu is one of the 3 most Senior Obas in Remo Division (Akarigbo of Remoland & Ewusi of Makun, Sagamu, completing the trio). He is a Permanent Member of the Ogun State Council of Obas. He ascended the throne at the age of 45. He is a man of sartorial elegance. He is one of the most stylish Obas in Ogun State. His regular preference for aso-ebi (dress) caps is rooted in his belief that Royalty is in-built. He believes he does not have to wear beaded crowns everytime or everyday to exude Royalty.
ROYAL FATHERS STORM EVENT
It was a Galaxy of Royal Fathers, as many royal fathers who are close to the Alaperu honoured his invitation, led by the Akarigbo of Remoland, HRM Oba Babatunde Adewale Ajayi, who looked refreshingly young and dignifying in his while royal Agbada. The red carpet brightened up when he arrived in his glittering white ESCALADE limousine. He is a great dresser. He is one of the best dressed Obas in Nigeria. He is blessed with a flawless baby-skin that glows.
BETWEEN ALAPERU & EBUMAWE
There is a chemistry that works between the 2 Obas that beat the imagination. Both the Alaperu and Oba Abdulrazaq Adesina Adenugba, the Ebumawe, (King) of Ago-Iwoye are very close And this showed on that day. The handsome Ebumawe who recently celebrated his 65th birthday was one of the early arrivals and once he arrived, he sat all through the event till about 11pm when Tope Alabi rounded up her performance. Throughout the event he was not in a hurry to leave. He supported his friend all through.
DR. DOYIN OKUPE, ageing gracefully
One of those who attended the event was the Medical Doctor turned Politician, Dr. Doyin Okupe, the former Special Adviser to OBJ. He is a valued son of Iperu. He was there to support his King. He thoroughly enjoyed Tope Alabi's performance.
OGD, AS POPULAR AS EVER
When former Ogun State Governor, Otunba Gbenga Daniel arrived the event he got a heroic welcome. Don't forget that Remo is his base. Don't also forget that he enjoys a special friendship with Alaperu which passeth all understanding. The Oba likes him. OGD in turn likes the Alaperu, just like he likes many Ogun Obas who gave OGD tremendous support when he was Governor. OGD calls Alaperu his pal.
Once OGD stepped out at the venue, he looked dashing in his Coffee, silky Agbada, looking refreshing. He still has his carriage, sauce, swag and amiable disposition. He went round to greet everybody, one by one. He is the Asiwaju Onigbagbo of Remoland.
OTUNBA YEMI LAWAL, WIFE & SON CAME
Otunba Yemi Lawal is a great Real Estate guru who has done so well for himself. He came for the event, with his beautiful wife, Deaconess Mrs. Ayotunde Lawal who thrilled guest at the event. They also came with their handsome son, Wole, who looks very much like his dad.
He has taken after his dad in real estate. He is the General Manager of Seagle Properties, whilst his dad is the Group Managing Director of the company Otunba Lawal stormed the venue in the latest G Guard Mercedes Benz. Wole is a brilliant guy. He is also eminently qualified for the role he now plays. Let's tell you why.
He studied Biochemistry at University of Essex for his undergraduate course and went to Imperial College for his Masters In Innovation, Entrepreneurship and Management. These days, he follows his dad to major events.
Mrs. Ayo Lawal came with her band to thrill guests. She is a Gospel Singer who has a band. She has been singing for years. She spent 15 years in the Choir. She worships at RCCG, Christ The Lord Parish 1 on Admiralty Way, Lekki Phase 1, Lekki, Lagos.
Her band is called Unlimited Praise. She is a Deaconess. Her 1st Audio CD and Video titled Manufestation was launched in 2007. She started out her career as a Banker in those good old days. She is from Iperu. She has a rich pedigree. She is from the Okupe family. She is Dr. Doyin Okupe's step sister.
Her husband is from Abeokuta but has a chieftaincy title in Iperu. He is the Otunba Bobasuwa of Iperu Akesan. He has 3 other titles. He is the Bobagunwa of Ishaga land in Abeokuta, Osi Bobagunwa of Egbaland, Laregun of Gbagura in Abeokuta and Ochudo N'Umuneke Udi Enugu. He is from Gbagura. He is from the Basuuru Compound in Ago Ika, Gbagura, Abeokuta.
The couple is close to Alaperu.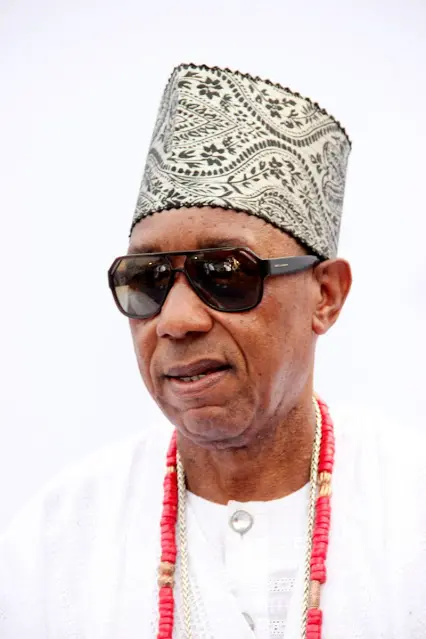 GBENGA ADEYINKA @ HIS BEST
There is no doubt about it that Gbenga Adeyinka is a very good master of ceremony. He accomplishes his tasks with ease. He looked so stylish in his blue outfit and a royal handwoven suede shoes. He did a good job on stage. He had something to say about each VVIP.
TOPE ALABI DAZZLED EVERYONE
Queen of Gospel music, Tope Alabi was the main act. She was the one everyone came to watch. The people of Iperu were already waiting for her. Weeks before the event, Kabiyeesi had erected a Billboard in town creating awareness for the Tope Alabi show. So Iperu was ready for Tope Alabi and she didn't dissappoint them. She sang about 15 popular tracks and the crowd went into a frenzy as she gave them each song, one after the other. She not only thrilled the close to 1,000 guests who had gathered to enjoy Tope Alabi, made up of both young and old, as she sang, they mimed the songs along with her.
KUDOS TO POPE WOLE ALABI
There is hardly any show Tope Alabi will have anywhere in the world, without her handsome husband, Pope Wole Alabi going with her. He is the Manager of the band. He is also the Keyboardist. He has a way of maintaining eye contacts with his wife and she instantly knows what is next. He co-ordinated the performance that night and it came out well.
ABOUT THE CHIEF PLANNER/ORGANISER
The Alaperu has a son who is good at organising events. He it was who put together the concert. He is a handsome guy like his dad. He is Prince Bola Basibo (MBA). He handles Alaperu's communications, social media and brand management, under the company. The Sales Brothers Ltd. He is the Visionary/Founder of The Sales Brothers Ltd. He did a good job.
OLORI KENNY BASIBO WAS HAPPY
One beautiful woman who was on her feet throughout the event was Kabiyeesi's wife, Olori Kenny Basibo. She is a very beautiful woman. She is blessed with a slim figure. She looks refreshingly young. She danced and danced all through the show.
OGUN GOVERNOR REPRESENTED
Many had expected that the Ogun State governor, Prince Dapo Abiodun would be at the event. This is because Iperu is his hometown and he likes the Alaperu of Iperu, his royal father. They have come a long way. But he was out of town that day. He was ably represented at the event by Hon. Biyi Adeleye, his Special Adviser.
Source: City people Magazine
Share this post below
??
Want To Advertise On Nobelie?
Click Here
Or Chat Us On Whatsapp
+2349028041964
| Send a mail to
realnobelie@gmail.com or ads@nobelie.com
NOTE:- After Dropping Comment Wait A While, Your Comment Will Appear After Moderation!!