When I was little, there was this boy in my school, whose father was a pastor. Because of his status as a pastor's son, everyone expected him to behave in a godly and respectable way. However, this was not the case. This boy was rotten to his bones. He used vulgar words, and made certain jokes and comments that made people wonder if he was really a pastor's child. His friends were the children with the most questionable characters, and he was a concern to everyone.
There was a time his parents got invited because of a crime he committed in school. When his parents showed up, they could not believe the allegations placed against their son because he had a different character at home. Their son had mastered the art of pretending before his parents, and living a different life at school.
I don't believe that that boy began to live that way from the first day he enrolled into our boarding school. I feel like his parents did not instill the fear of the Lord in him, and that made him susceptible to evil communication that corrupts good habits.
Faith Oyedepo said that as your children grow and mingle with people from various backgrounds, it is the fear of God in them that makes them retain their reverence for God and preserve their ways. This fear of God is what the parents instill in their children as they grow up.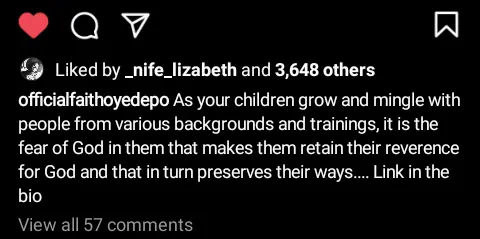 The Bible says that if you train a child in the way he is supposed to go, when he grows old, he wouldn't depart from the way he has been shown. The best legacy you can give your children is godly training. The godly training you give to them will ensure that no matter where they go, and whoever they mingle with, they will know who they are, and they will not be corrupted.
These days, we see good children change when they come in contact with people without the godly home training. If you want to prevent your child from falling victim to this, then instill the fear of God in him or her. This fear of the Lord will make your child hate iniquity, and stand up for the truth wherever he finds himself. Be blessed.
source: lavictoria