Frank Edwards Finally Reveals Why He His Afraid of Getting Married
Your previous experiences on something can determine the future perspective you will have on that thing. There are people, for example, who had experienced terrible things when they were children in the marriages around them, maybe of their parents or a relation close to them, and those experiences have shaped their views on marriage.
It seems award winning gospel musician, Frank Edwards, falls into this category. He has revealed that he used to be afraid of getting married, and he explained the reason why. On his Facebook page, he said that he used to be afraid of marriage because he saw people who had everything, but still failed in their marriages.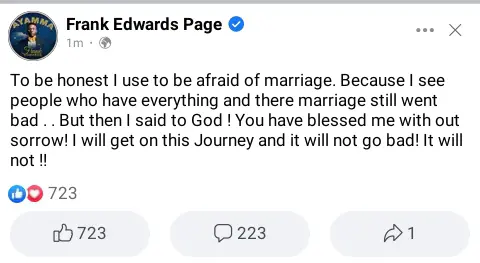 The 33 year old singer went on to give glory to God because God has blessed him, and he declared that he would go on witb this journey, and his marriage will not be bad even with what he has seen.
What are your thoughts on this? Share them in the comments. Be blessed.