Olamide Oladimeji Mayungbe, popularly known as Dele Omo Woli, is one of Nigeria's talented skit makers. Mayungbe started his journey as a drummer before meeting Ayo Ajewole (Woli Agba) whom he refers to as his mentor. He tells his life experience in this interview by TUNDE AYANDA. Excerpts:
How did Dele Omo Woli get into comedy and skit making?
I started my journey in 2005 with the group called Alfa Sule. I was their drummer and Woli Agba happens to be the younger brother to Alfa Sule. My intention of joining the group was to act, because I love acting, but they later discovered I play the drums, so they decided that I should be playing drums and not just acting. I was their drummer for about 15 years, but whenever we wanted to have a movie production, I would also partake. In 2016 when we were still with Alfa Sule, I discovered that Woli was doing these 15-30 seconds videos. When he did the first one, I loved it and told him he should call me whenever he was going to do another one. Woli was doing it alone with one of his friends that time whose dad has a church around Ososami. We would go there and put on white garments and act church scenes. There was a day he now called me and said: 'Lamide, where are you? An idea came to me now and I would love us to do it together'. That day I was actually running an errand for my mum, I had to rush down to meet him. When I got there, he directed me, we did the first skit, and it went viral. There is one skit that got me the name and role of Dele Omo Woli. My name is Olamide Oladimeji and that time they used to call me 'Ilu' because of the way I play drums. There was a skit where I took my brother, Dele Mayomi's dog to the scene. The dog's name is Winnie. Woli asked me where we could get a dog, and he said 'Lamide, go and bring a dog'. I brought the dog and tied it at the entrance of the church, so in the scene when he saw the dog he started shouting that we don't need dogs, that God is our security. He was shouting at me and I was acting stubborn and that was when he called me Dele, I didn't know where the name came from because he normally calls me Olamide. When the video came out people started commenting that this Dele would kill his father, and that was it! There was a skit we did before then where I helped him with a load and then I wasn't playing the role of his son, he was just giving me any role to play then, but the dog's skit changed the whole story, I became Dele Omo Woli and the name stuck with me. God has helped the ministry, we are doing fine. We have done a lot of ministration where we ministered before kings, governors, senators, travelled to Dubai, to Canada. God has been good to us.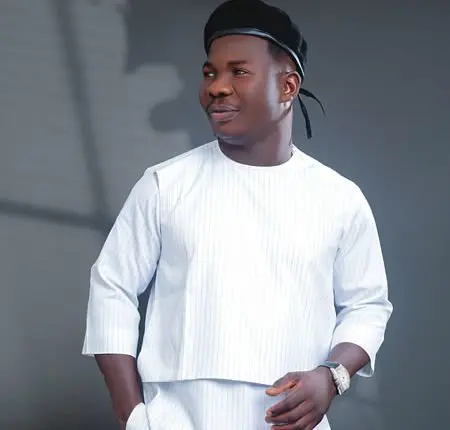 How did your path with Woli Agba's cross?
Like I said earlier that I love to play drums. What I used to do back then was that every weekend, there would be a concert or praise night, I used to move around the streets to check posters for concerts and praise nights where I would be given the chance to play the drums. There was a church I went to play drums around D'Rovans Hotel. The name of the church is Church Hill. I saw the poster that they were having a praise night and as usual, I went there. When I got there, they were inviting a lot of guest artistes for their ministration and that was when this group, Alfa Sule came up. That was the first time I heard their name. It was baffling as I was thinking what's an Alfa doing inside the church? They came and did their dance drama. I saw Woli Agba's brother wearing Agbada and did his role, and the whole scene was so interesting. People were singing along with them, but they were new to me, I was just seeing them for the first time. They started and were playing a very slow beat, they were coming one by one, when it got to Woli's turn, I almost died laughing. He was very funny, I was stunned and luckily for me there was this friend, we worshipped in the same church, Bayo Joshua Peters. He was part of them and I told him I would love to join them. I specifically pointed out Woli Agba, Ayo Ajewole, that I loved his act. He promised to help me talk to their boss, and I was invited to their rehearsal. But I was a street boy. When I got to their rehearsal I was eating fish and biscuit and my mouth was stained, I was a perfect example of a local rascal then. So, when their boss saw me, he asked that I be sent away. They didn't call me back for weeks. It was that my friend that later scolded me about my appearance, but luckily for me they didn›t have a permanent drummer back then. The guy that used to play for them was not always available. There was a day they were going out and their drummer didn›t show up and Joshua Peters told them I know how to drum, that was how they gave me a second chance. They called me in the evening, I ran there and we went for the programme where I played for them and since that day I became their official drummer. I can't forget the first church I went to with them, at Iyana Lodge. I became closer to Woli Agba because of his funny nature. He was very friendly and jovial. Whenever he goes for personal ministration, I usually follow him. He would sing and I would drum. Whenever he sings a song I know what to play that would make him dance. We became so close and we remain close till now. In real life we are close, he is my mentor and more like a father.
You are always arguing in your skits, do you also disagree in real life?
He is always the one giving me the naughty and stubborn roles to play in our skits, but in real life we don't argue. You know I'm a calm person and I can never forget where we were coming from. We started from the church and we can't say because now that we have a little fame we should forget our past. I still have my sense, I go to church every Sunday, and I still play drums at my church, RCCG in Sango. I'm close to God in my own way. I pray to Him and He answers, but at the same time I still have the streets in me, we balance the whole thing.
You guys have taken your trade out of the shores of Nigeria. You have a large fan base all over the world but you are in Ibadan. Don't you think this in a way hinders some of your achievements?
What matters most is consistency and not location. We believed in God. When we started a lot of people were calling that we should relocate to Lagos, citing different business reasons, but we believed in God. As it is right now, nobody in Ibadan has Woli Agba's followers and it is from this same Ibadan that we travelled to Canada twice; we travelled to Dubai and soon we are going to the UK. Can't you see that God is at work? Take for instance the deal with Dollar Construction, if we are not relevant, would they sign such deal with us? We believe in God and we are never lazy, we pray hard and work hard.
How profitable is comedy/skit making?
Not bad. We do a lot, and this is a passion that we started without thinking of any financial gains and as God would have it, it has become profitable. You know how hard it is to make people laugh? For me there is no school you can learn that from. It is natural and it's not something you can fake. People will send a message and ask if we can teach them how to be funny, it's a talent and you can't learn it. We didn't learn it, it's not easy to make people laugh. You need to think deeply and create a concept that would later open doors of opportunities.
Who are the people you look up to and where do you draw your inspiration?
Woli is the person I look up to, anything he does I want to do it. I like the way he talks and everything. You should understand that when we started, there was nobody, all the social media people you are seeing now were not there. This is something we started a long way back, so he is my mentor and role model. We've been in this for about 16 years, we didn't just arrive three years ago. I posted one of our old videos then and people were commenting, we were so young. About inspiration, our inspiration comes from our mood and things around us. Woli has a way of making us laugh and that helps a lot.
What are the things fame has deprived you of?
I told you I was a rascal, now there are things I can't do again. I used to roam around the streets, now I can't do that again. I used to be very rough and untidy, but now I can't be like that again because we are now role models to a lot of younger people.
How big is IPM? 
Our Instagram Parish Ministry is growing every day, it's a church online, and we are close to 40. Whenever we have a big project we all come together. We are a group of editors, cameramen, sound engineers and a lot of us. We are a big family.
Where do you see yourself in another five years?
Where I was in 10 years is not where I am now, only God knows tomorrow, with God on my side, I know I will still be relevant.
YOU SHOULD NOT MISS THESE HEADLINES FROM NIGERIAN TRIBUNE
In spite of the huge investment in the water sector by the government and international organisations, water scarcity has grown to become a perennial nightmare for residents of Abeokuta, the Ogun State capital. This report x-rays the lives and experiences of residents in getting clean, potable and affordable water amidst the surge of COVID-19 cases in the state…Gowon tasks FG Gowon tasks FG
The Lagos-Ibadan railway was inaugurated recently for a full paid operation by the Nigerian Railway Corporation after about a year of free test-run. Our reporter joined the train to and fro Lagos from Ibadan and tells his experience in this report…Gowon tasks FG Gowon tasks FG