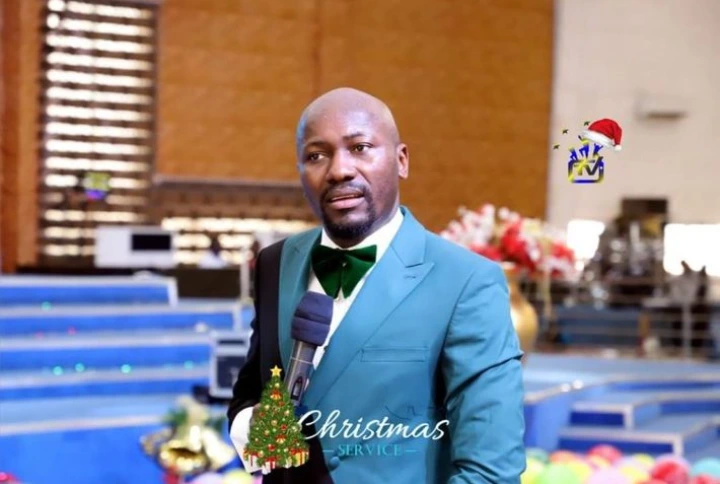 The Nigerian Televangelist and General Overseer of Omega Fire International Ministry (OFM), Apostle Johnson Suleman has addressed the misconceptions about the celebration of Christmas.
The renowned clergyman said there are misconceptions about Christmas, and one of the misconceptions is the argument about the date which Jesus was born and also the reason why Christmas is being celebrated. "There are misconceptions about Christmas and I want to correct those misconceptions. The first Christmas ever was celebrated by an emperor who became a Christian. He's called Emperor Constantine. He was the first person to celebrate Christmas in year the 336. That was the first date Christmas was celebrated, and Pope Julius 1 took it from him. The Pope was the one that set aside the date which Christmas is being celebrated, December 25th but Jesus was not born on December 25th, but Jesus was born, and we are not celebrating the birthday of Jesus, when we celebrate Christmas, we are celebrating the birth of Jesus," Apostle Suleman.
He said the early Church also celebrated Christmas and the celebration of Christmas is biblically correct. "The early disciples, the early Church celebrated Christmas on January 6 and if Angels celebrated the birth of Jesus, we too should celebrate Him. If you read the scripture, they gave gift to Jesus when he was born, so it is our duty to celebrate the birth of Jesus, and it's not important that he was born on December 25th, what is important is that he was born and that's what we celebrate. Don't let people fool you, study the Bible for yourself. The Bible is not so big that you cannot study, it's complex but it's not big and if you don't believe in celebrating the festive season, let me give you a scripture. 1Corinthians5v12 says, rejoice with them that rejoice. So, when we are celebrating Christmas, rejoice with us because we are rejoicing," Apostle Suleman said.